How Many Belarusians Got Into "Pension Trap"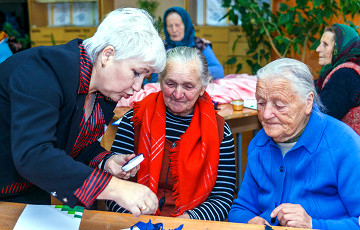 Belarusians, caught in the "pension trap," will not be able to claim an occupational pension.
In Belarus, there are 3.5 thousand people who are not entitled to an occupational pension due to lack of years of service with payment of taxes, can receive only a social pension. The Deputy Minister of Labor and Social Security Valer Kavalkou said this today during an online conference on pensions on the website of the Ministry of Labor, tut.by informs.
We shall remind you that men may be granted social pension from the age of 65, women - from the age of 60.
Belarusians, who have not completed pensionable service under the new rules, fall into a "pension trap": they cannot claim an occupational pension, they can be assigned only a social one.
Belarusians, who failed to achieve the required length of service for getting an occupational pension, can get a social pension: men - from 65 years of age, women - from 60 years of age. The size of the social pension is 50% of the minimum subsistence budget. Now the social pension is 112.01 rubles.
"How many people in our country receive a social pension? And does the Ministry of Labor plan to take any action to reduce the number of those who receive a social pension? - people asked representatives of the Ministry of Labor during an online conference.
– There are 3,500 pensioners of this kind. In general, I would like to note that the size of pensions depends on the length of service and the level of earnings from which the social security taxes were paid. That is, the amount of citizen's participation in the legal labor market determines his future pension provision, - Valer Kavalkou said. – The Ministry is taking a number of measures to encourage legal employment. These include, in particular, assistance in employment, maintenance of the Republican Vacancies Pool, information on the importance of payment of social security taxes and a number of other.
It should be reminded that until 2014, the length of service taken into account in determining the right to an occupational pension was 5 years. And from January 1, 2014 it was increased up to 10 years, and in a year - up to 15 years. Annually, this level is increased by 6 months - up to 20 years by 2025