Dziamjan Lepiasevich: Well With Alkali Found At Battery Factory Near Brest
8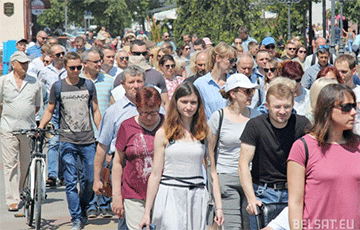 The Brest residents do not believe the promises of the authorities.
More than 500 people gathered in the central streets of Brest, the Charter97.org correspondent from Brest reported yesterday.
People came out for a weekly protest against the harmful, in their opinion, iPower battery factory, built near the city, Belsat reports.
"They found a well with alkali at the plant. What have the authorities done to remove the caustic soda and find out how it got there? Nothing. All the wells are being welded so that the public could not see what is happening there. They close the storm hatches and hang the locks," Dziamjan Lepiasevich, an opponent of the battery factory, says.
Yesterday, the authorities held an open meeting with citizens. Chairman of the Executive Committee of the City Executive Committee Aliaksandr Rahachuk and chairman of the regional committee of natural resources and environmental protection Aliaksandr Haroshka assured that the plant was not working, the expertise was being conducted and no danger had been detected yet.
"One of the arguments of people who doubt is that the dynamics of lead accumulation in the soil is double. Do you deny it? - Aliaksandr Rahachuk stated.
"Yes, I deny it for today. Since the figures of 15 milligrams have been taken from the industrial zone and 5 milligrams - from the sanitary protection zone," - Aliaksandr Haroshka said.
This is not the first time Brest citizens have heard such statements, but they see violations with their own eyes. Therefore, most of the people ignored the meeting. The activists are sure that the officials have specially scheduled the meeting at 11 a.m. to disrupt the protest scheduled for 12 a.m.
"There are no active actions and production processes there, but still the people who are present there - they register regular waste flow, which does not match the fact that the company does not work. The boiler works regularly at night. And the general situation does not coincide with the statements made by governor Lis," - Dzmitry Bekaliuk, an opponent of the battery factory, says.
Thus, the chairman of Brest Regional Executive Committee, Anatol Lis, ordered to stop the operation of the plant completely, but, according to the activists, the ban is not respected in practice. As they have learned from officials, Lis did not appoint specific people to carry out this assignment.