"Policeman Says – I'm Gonna Break Your Phone Now, It' s Not Allowed"
9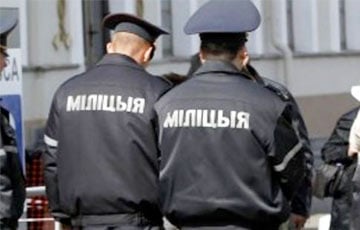 Belarusian human rights activists have spoken out against torture by the police.
Approximately one third of those detained by the police admit that they were ill-treated. Some people consider it the norm, while human rights activists say that cruelty and humiliation is a violation of the law by law enforcement agencies. The information week against torture continues in Minsk. Despite the ban, human rights activists report more and more cases of violence against detainees, Belsat reports.
"This is my son Artur, who was detained when he was 25 years old, severely beaten, they found 0.22 grams on him and sentenced him to 12 years," - Maryna Yauheleuskaya shows a photo.
Maryna Yauheleuskaya has been waiting for her son, who was tried under drug article 328, for 5 years. The woman remembers well the day of her son's detention and how she came to the police station to look for him:
"They shouted like crazy ones. My son, of course, too. Then shouting again, time passed, they brought another one. And it lasted the whole day. As a result, they were dragging my son there in the evening. I came up, wanted to take a picture, and the policeman said: "I'll break your phone now, it' s not allowed."
The guy signed the protocol on seizing the spices even before the lawyer arrived. When Artur got to Zhodzina prison, he had bruises 4 centimetres in diameter. And later on in the court, his mother got even more scared for her son.
"At the trial I saw him, he was taken in, he was looking around not understanding what was going on. It was obvious that the man cannot remember, that is, he did not realize where he was, who he was with, he did not recognize me at all," - the woman said.
Maryna, together with human rights activists, managed to start an investigation into her son's beating. Beating or other violent actions in order to make a person confess or receive information are qualified as torture in international law. According to the Universal Declaration of Human Rights, torture is prohibited. In 1987, the Republic of Belarus signed the Convention against Torture.
People are not toys. Human rights activists have released souvenirs to tell the public what is going on behind bars. Electroshockers, bottles, batons - all these are still used as devices for torture.
Three years ago, human rights activists conducted a survey among those who were punished with administrative arrest. More than 30% of people reported the use of physical force during arrest. And 12% of respondents incurred various types of punishment during detention.
The Republic of Belarus does not keep relevant official statistics. There is also no criminal article for torture in the national legislation.
"The only information we received from the report, submitted by Belarus to the Committee against Torture, was about 600 complaints about actions that fall within the definition of "torture". And only 10 criminal cases were filed out of all these," - Viktoryja, chairman of the NGO Legal Initiative, says.
To draw attention to the problem, human rights activists are holding for the first time the Week against Torture this year. It is timed to coincide with the International Day in Support of Victims of Torture on June 26. Within the week, the human rights activists presented their research on the attitude of Belarusians to punishment.
"People, who have not faced such situations, seem to perceive such cases, when they hear about them somewhere, as methods of these bodies' work. This is probably a natural situation, and such an educational campaign is needed," - Iryna Prakopchyk, one of the organizers of the Week against Torture, says.
According to the survey, almost 80% of respondents justify punishing an accomplice to a terrorist. The majority of respondents do not understand what the absolute prohibition of torture is. The week against torture will last until 28 June.