Belarusian Speak Out About Amendments to the Conscription Rules: The Young, It's your Turn!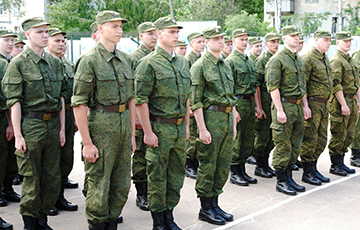 It's the reaction of social networks to the draft law on conscription rules.
A draft law "On Amendments to the Laws on the Effective Functioning of the State Military Establishment" is submitted to the "House of Representatives" for consideration. The document significantly tightens the rules of conscription and consequences for Belarusians, who have not served in the army with no legal grounds. Readers of Charter97.org responded immediately.
The major amendments to the new law are as follows: deferral for education is available only once; introduction of the concept of "those who have not served in the army without legal grounds"; prohibition to hire people who have ignored conscription without legal grounds; work on placement is replaced by service in the army.
The authors stress the necessity of the document because the military registration and enlistment offices have been considerably short of recruits lately. Among other things, it happens because of dodgers.
This news has become one of the most discussable in no time.
"Well, young people, it's your turn. This gang turns to you".
"Not only young people but all those who are registered in the reserve can be considered as dodgers! Borders can be closed for everyone! They have really lost their mind".
"Why do we need an army when they won't let us shoot? Some soldiers have not even seen weapons. However, there is urgent deforestation now".
"Well, guys, it's your turn".
"My congrats to the state. There will be no young people left in the country at all. They will run away. Save your children! A total dictatorship and repressions will break. There will be no thinking people in the country. By the way, there is a loophole for their children, who can occupy high positions after studies abroad. The rest of the leaders will be scumbags from the army. It's the end of the fool - accordion player".
"Nobody needs this army with officers with Russian flags".
"It's time to take to the streets, people!!! How long will we tolerate this?"
"Earlier it was a shame if one did not serve in the army. Now it is a shame if one serves".
"If one spends less money on festivals and parades, it will be enough for a professional army."