Belarus To Restrict Travelling Abroad For "Dodgers" From Army: New Details
33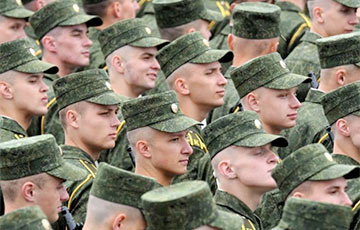 The bill is being considered in the "house of representatives".
It is proposed to temporarily restrict the right to leave the country for army evaders in Belarus.
This is provided for by the amendments to the laws on the effective functioning of the military organization of the state, which will be considered by the "house of representatives" in the first reading today, BelTA correspondent informs.
The draft law provides for the introduction of temporary restrictions on exit from Belarus for citizens who do not take part in the activities related to conscription for military service, service in the reserve or not performing military registration duties.
The bill gives the right to the district (city) call-up commission and military commissioners to decide on recognizing citizens as not having passed the military service on draft without having any legal grounds to do so.
In the case of commissions, these are young people under 27 years of age who are not in the reserve, who evade call-up and service in the reserve and who do not perform their military registration duties.
Military commissioners will take such decisions in respect of those enlisted in the reserve, if they evade conscription or fail to perform their duties of military registration before the age of 27.
Ihar Martynau, a member of the Standing Committee on National Security of the "house of representatives," explained that the travel ban will be in effect "if a citizen has been duly notified of his obligation to appear at the military commissariat and has not arrived without a valid reason".
The evader will be notified that he is not allowed to travel abroad. The decision should be handed over to him, the deputy stressed. The ban will not be in effect until the young man receives it personally.
"After the decision of the draft commission is handed over, it can be appealed within a week," - Ihar Martynau said.
After the young man turns 27, the ban will be lifted.
The authors of the bill also propose to exempt those who voluntarily joined the military service under the contract and served for at least a period of compulsory work from reimbursement to the budget of the funds spent on their preparation.
As previously reported, the bill provides that the deferment of the draft for continuing education in Belarus will be provided only once.
The bill provides for: if the student has already used the deferment, he will be granted an academic leave during his service in the Armed Forces. In addition, the bill provides that those who have evaded the army will not be accepted for public service, as well as in the Interior Ministry, Ministry of Emergency Situations, Armed Forces, State Committee for Statistics and so on.
The petition against the new bill has already collected more than ten thousand signatures.