Barys Hamaida: This Power Is Illegitimate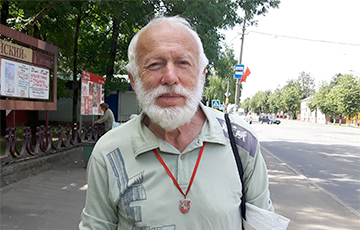 A well-known Vitsebsk activist was fined for "blockage of the street."
The administrative commission of Zheleznodorozhny District Executive Committee issued a decision on the fine according to the protocol, drawn up against the distributor of the independent press, a well-known Vitsebsk activist Barys Hamaida on April 30, Radio Racyja reports.
Nothing unusual happened that day: the well-known Vitebsk activist Barys Hamaida put up, as usually, his table under a white-red-white umbrella near the "blue house" and laid out magazines and newspapers. But the head of the nearest shop called the police.
The sentence for the fine was sent by mail, Barys Hamaida told:
- The commission summoned me twice, but I did not go there, because I think that this power is illegitimate. On Saturday, I received a package, and it contained a resolution that they imposed a fine of one base unit. I won't pay voluntarily, let them deduct this one basic fine - 25.5 rubles - from my pension.
In March and April of this year, protocols for "blocking the street" on Barys Hamaida were drawn up three times. Two of them were cancelled because they found no evidence against the distributor. The penalty under the third protocol was minimal: the sanction of Article 21.14 of the Code of Administrative Violations (violation of the order of maintenance of settlements) provides for a fine of up to 5 basic units.