Ales Krutkin: Brest Residents Showed Excellent Example Of Commitment, Courage And Self-Organization
2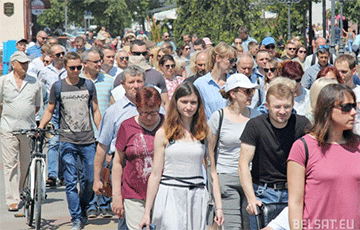 Why shouldn't the authorities irritate the residents of the city?
In mid-June, the Brest authorities promised to suspend the launch of the scandalous plant. Nevertheless, according to reports from residents of the city, the company sometimes continues to operate and pollute the environment, the Basta telegram-channel writes.
A march in Brest, which took place on June 23 and gathered about 500 participants, was a response to double-faced officials.
Why shouldn't the authorities annoy the people of Brest? Ales Krutkin, a video blogger, says:
"On June 14th the long-awaited news from the Brest front of the struggle against dictatorship came: the chairman of the regional executive committee Lis suspended the construction of the battery factory.
The selfless struggle of the Brest citizens has led to a small but nevertheless a victory over corrupt officials and irresponsible businessmen.
The Chinese have long practiced the transfer of dangerous enterprises to the third world - this is how our country is now perceived "thanks to" Lukashenka's dictatorship. Protests against the harmful plant began in January 2018. Not indifferent residents of the regional center and surrounding villages used the main square of Brest for protests for half a year.
In the last few months, the meetings in the square were transformed into processions along the main streets of Brest. More and more people were coming out, self-organization was growing and new leaders emerged. And suddenly, a bright head appeared among the panoptics of the Belarusian officials, who realized that it would not end well. Protests in the regions resulted in a change of power in many countries of the world - for example, in Romania.
Brest citizens have shown us a great example of purposefulness, courage and self-organization. By the way, this is not the first time. The longest protests against the decree on "parasites" took place in Brest in 2017. In September 1939, Guderian's tanks bogged down here for a whole month. And here is another victory - not the first and not the last one.