Yauhen Afnahel: Vitsebsk Impressed By Warm Welcome
2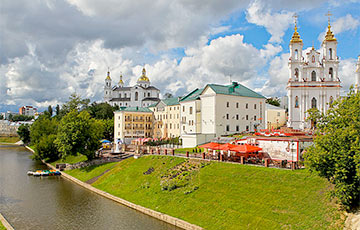 More than 80 people came to the meeting with the BNC leaders.
Leaders of the Belarusian National Congress, presidential candidate Mikalai Statkevich and coordinator of the European Belarus civil campaign Yauhen Afnahel held a meeting with residents of Vitsebsk on June 26.
Yauhen Afnahel reported on the details of the meeting on Facebook:
"Vitsebsk impressed by the warm welcome, new faces and the destruction of stereotypes about the "pro-Russian east of Belarus."
Despite the heat and the small hall, more than 80 people came. Almost all of them were people who did not belong to any political organizations. The meeting lasted for three hours, but, unfortunately, the meeting participants did not have time to answer all the questions. They discussed the process of changing the power - street protests, their preparation and forms, the contribution that each person can make to their organization.
Among the interesting moments - a number of participants offered financial assistance to support the activities. Thank you!
Immediately after the end of the meeting, at the suggestion of the audience, a meeting was held to admit new people to the BNС - about 40 people joined, they decided on the main directions of work for the near future and those responsible for them.