Father Of Deceased Traffic Police Inspector: Exhumation Denied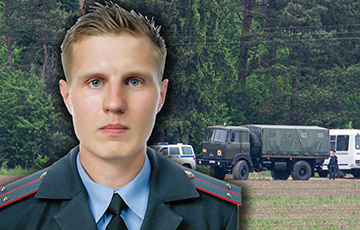 Yauhen Patapovich's parents do not believe in the version of suicide.
The investigation refused to allow the parents of the young traffic inspector Yauhen Patapovich, who died in Mahiliou, to exhume his son's body. The request to recognize the parents as victims in the case was also rejected. The inspector's father, Uladzimir Patapovich, told tut.by that he was not satisfied with the refusal and sent appeals to the General Prosecutor's Office and the Lukashenka administration. Inspector's father Uladzimir Patapovich filed a request for exhumation, as he had suspicions that the bullet wound was not the only one on his son's body. He and his ex-wife are also concerned that none of his relatives were allowed into the morgue.
- I talked to the family. They also saw aы a minimum a cut on Yauhen's chin at the funeral. And I still have suspicions of damage to the lower abdomen," – Uladzimir Patapovich said. - We are not recognized as victims - only witnesses in the case: apparently, because of the version of suicide. And I do not know whether I will see the result of the examination. The investigator called me and said that it was over and the results indicated that the body had only a bullet wound.
In the evening, May 16, it was reported that a police officer had been kidnapped in Mahiliou. The entire police force of Mahiliou region was raised by alarm, as well as roadblocks were set up all over the country. They were looking for a black "Volga" with a Russian registration number. According to the original version, the traffic police officer was pushed into the black "Volga" by three unknown persons of Roma or Caucasian appearance in the Chapayeuka neighborhood and taken to an unknown location. A few hours later it became known that the body of the missing lieutenant Yauhen Patapovich was found in the woods. A gunshot wound to the head was officially reported.
On 20 May the IC reported that the main version of the death of the Mahiliou traffic police officer was suicide. Later, former Interior Minister Ihar Shunevich stated this version as the only priority.
Patapovich's parents told us that they did not believe in the suicide version because their son had no reason to do so. "He was planning a life and a wedding," – they said.