Belarusian Volunteer Wounded In Donbas Hopes To Restore His Sight
5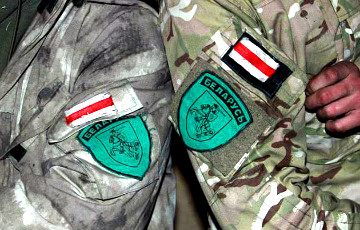 He was seriously injured in the battle of Maryinka.
Health workers promise to restore sight in the eye to Belarusian Zmitser Rubasheuski (call sign "Hans"), injured in the battle near Maryinka in Donetsk voblast on May 16, as Belsat reports.
Let us remind you that in the battle of Maryinka, "Hans" was seriously wounded. One eye couldn't be saved, the ophthalmologists fought for the other. The volunteers announced a fundraiser for Rubasheuski's treatment.
When asked by journalists, how he now sees, the volunteer answered: "Very blurry, and they promised to restore sight in the eye that has survived." "Hans" added that he plans to return to Donbass in the future "if his eyesight recovers enough".
Rubasheuski also said that the treatment is done for the money collected by volunteers, and he does not receive any payments from the state.
Zmitser Rubasheuski (Hans) is a 27-year-old Belarusian volunteer from Brest. From 2016, he fought in Donbas as part of the Right Sector Assault Company. In December 2017, he was awarded the Order "People's Hero of Ukraine", founded by Ukrainian volunteers.