House Of Representatives Member Who Suggested Conscripting 40-Year-Olds: Served Three Months Myself
115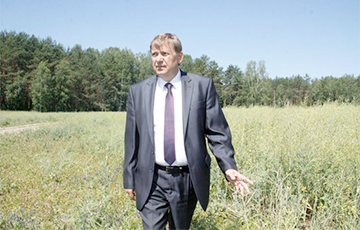 Mikalai Rassokha spoke about his position on the new draft law on military service.
On 26 June, the "House of Representatives" voted in the first reading for the new law on military conscription. The draft bill provides that the deferment of conscription to continue education will be granted only once in Belarus. Also, the border will be closed for escapists.
During the discussion of the amendments, the "deputy" from Mozyr electoral district #43, Mikalai Rassokha, was remembered, as he suggested raising the recruitment age from 27 to 40.
"Nasha Niva" appealed to the "deputy" to substantiate his position.
- What can I say here? Why not to serve? It is necessary to serve and that is all! This is a sacred duty, which is written down in the Constitution. We have to pay our debt properly.
- You have to admit that at the age of 35-40, health is no longer the same as at 18 or 23.
- You are not forced to run three to five kilometres. What is your profession?
- A teacher.
- Why can't we give you the opportunity to teach at the Cadet School or Suvorov School? You will be useful in today's army. Why do you think it's not a military service to teach future soldiers? A signalman serves, right? A chef serves, too, right? Everyone serves. At the age of forty, a man should break a wall with his fist and does not notice it.
- Would you personally be willing to go live in a barracks at your 40s?
- And why not, why not? Don't say it like that: are you ready or not ready. You have to say to yourself: "Yes, sir. As in the army - that's all.
- Did you serve yourself?
- I graduated from the university with a military department and went to the training camp for three months in Brest.
- Have you ever encountered any hazing?
- No. We were adequate people with higher education. We served normally, without any problems. The intellect was somewhat higher, though. We just knew it was necessary - that's all. Remember our time when a person was getting a so-called white ticket. The guys were looking at such a person with suspicion. The law is the law, and it has to be followed.
- The fact that the petition against these amendments collected 10,000 signatures so quickly didn't make you think about it?
- I don't know, I can't comment. We have a man who is in charge of this bill, I just asked a question that interests me. What is the main law we have? Constitution. Let's follow it.
- Are you against a professional army?
- Who told you that? No, I have nothing against it. It's fine, both are fine: professional and such an army. Do not say that you I am against it. We read the Constitution and implement it, everything is written there in black and white.