Brest Citizens Troll Officials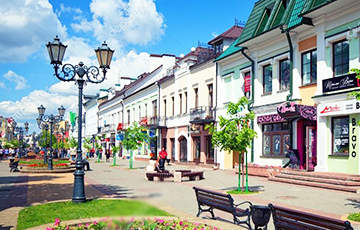 The authorities had to invent an excuse.
Raman Kisliak, a human rights defender, sent an appeal to the Brest City Executive Committee. He believes that this will be a unique art object for tourists, while Brest residents will be able to pour down their negative emotions on the bureaucrat, Salidarnasts writes.
Raman Kisliak suggested installing the composition "Bureaucrat and Man" on Gogol Street in Brest. He notes that the production and installation of the art object will be made at the expense of the Brest citizens, who supported this idea.
Brest City Executive Committee did not approve the proposal. The letter of July 9, signed by Krauchuk, the first deputy head of the Executive Committee, notes that there are a significant number of sculptural compositions on the alley already.
According to the official, Brest City Executive Committee daily receives proposals to install new art objects on Gogol Street. The authorities do not support them in order not to overload it with sculptural compositions. Therefore, officials considered the installation of the sculpture of the bureaucrat to be unnecessary.
Raman Kisliak is not going to give up the idea and is preparing a new proposal to the authorities - to install the art object on the river embankment.
- There is a lot of free space there," - the human rights activist said. - It is not overloaded with sculptures.
Here's how the author of the idea describes the composition: "Cork plugs will stick out of a bureaucrat's ears, which symbolizes unwillingness to listen to an ordinary person. The sculpture of the bureaucrat will stand turning his back to other sculptures of this composition, which will symbolize ill bureaucracy and the corresponding attitude to people.
The sculpture of the bureaucrat will have blank face in order to avoid accidental resemblance to the current officials, as the image of the bureaucrat is collective. A lantern framed with the inscription "people's problems" will be raised over the bureaucrat - it will symbolize that the bureaucrat doesn't give a toss about people's problems.
Behind the sculpture of the "bureaucrat's" back there will be a bench, on which a sculpture of a common man faced with bureaucracy will be sitting. People will be able to sit on the bench: residents of the city of Brest and its guests will be able to sit and feel themselves near the bureaucrat.
Raman Kislyak is sure that the sculptural composition will reduce the number of cases in courts under the article "Insult of officials":
- People will be able to pour down their negative emotions on the "bureaucrat." So, the art object will have a psychotherapeutic effect.
In addition, the author of the idea believes that the sculpture will increase the attractiveness of Brest for tourist, as there are no sculptures devoted to bureaucracy in Belarus and neighboring countries.