Defense Ministry Prepares New 'Surprises' For Draftees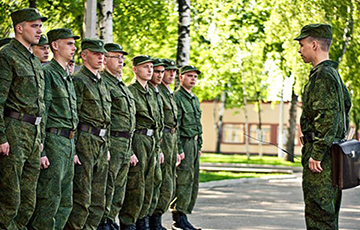 Raukou's office seems to be looking for ways to increase the number of conscript soldiers.
The Ministry of Defense has worked out additional proposals that will allow "to increase the prestige of the military service".
Defense Minister Andrei Raukou, told reporters about this today, BelTA informs.
According to Andrei Raukou, the Ministry of Defense made another proposal to the Ministry of Labor - "to introduce coefficients depending on the length of military service for recalculation of the pension experience".
The Ministry of Defense is also working to provide other "preferences" for those who served in the army.
It is assumed that in January 2020, the law will come into force, according to which the priority right to get a place in the hostel will be granted to students who have completed urgent military service or service in reserve - those who have the recommendations of the military units.
The question of the provision of employment benefits is also under consideration. For example, it concerns the preservation of the right to return to the previous place of work within three months since the date of the end of military service.
With regard to education, the provision of the preemptive right to enroll in universities and colleges to those who have served in the army has already received support. It is planned that people with experience of army service will be able to study for free at the expense of the state at the preparatory departments of universities.
The "House of Representatives" voted for the scandalous "law on postponements" on June 26 and 28. Before this, the society collected 10 thousand signatures on a petition against the document in 10 hours.
The law introduces more stringent rules of enlistment in the Belarusian army. An army service postponement for receiving education will be provided to young people only once. If a person does not serve in the army without "legitimate reasons", he will not be accepted into civil service and in some law-enforcement agencies. The draft dodgers will be limited to leave Belarus. And perhaps the only innovation that looks like a positive motivation for the military service is that the service time will be credited as working under distribution.