Leanid Zaika: Belarusian Government Should Be Sent Somewhere To Zimbabwe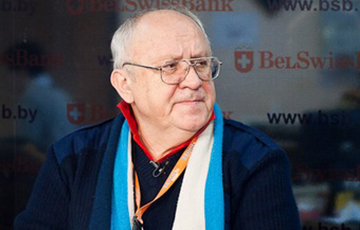 For 25 years, people sat still watching how the others live, but haven't learnt how to live themselves.
The IMF advises the Belarusian authorities to raise the retirement age and take on the employment of those over 55 years old. This is due to a predicted decrease in population in the next 30 years.
"These are recommendations from the list of standard proposals for backward and poor countries," Leanid Zaika, head of the Analytical Center "Strategy", commented for Solidarity. "I take this with irony. I suggest a more radical way. Dear friends, try not to live to retirement age, so as not to suffer later. The second option is to create capital, on which you will live then.
Looking from Washington, it is easy to raise the retirement age, says the expert. According to him, Belarusians are incorrectly involved in the production and work too much. As a result, they get injuries early, including psychological ones.
"Therefore, God forbid that they live to retirement age," says Leanid Zaika.
Will the Belarusian authorities dare to raise the retirement age? In the future, yes, the economist believes. In the near future - no.
- They reduced the retirement age in Poland. Those who fail to do this obviously don't love their people. What can we do? Bring the Polish government here, and send ours somewhere to Zimbabwe. For 25 years, people sat still watching how the others live, but haven't learnt how to live themselves.
The reason is not that it is technically possible to fix something, but that people do not have significant vectors of economic freedom and cannot create their own business, they cannot leave anywhere for a high salary. They want to build an apartment, they are afraid of being mobile, they are afraid of life. Only young IT professionals began to live differently.
- What to do in order to live comfortably in retirement?
- I tell my graduate students, do two things. First, try not to be an employee, because you will never be rich. The second thing is to never live in one country, for you will be a unipolar idiot. You yourself must decide when you stop working for someone - at 40 or 70 years old.
The interlocutor gives an example of how his former student who led the bank changed his life.
- When she bought herself an apartment for 100 thousand dollars, I asked: "Why do you go to work? You can lease an apartment for 1.5 thousand dollars, rent an ordinary two-room apartment, and use the remaining money in all the resorts that are on the map. " Then she calls me and says she hasn't slept for two weeks and made a decision. She leased an apartment for 1,800 euros to a Japanese diplomat, for 300 euros she rented some accommodation facility in the avenue. She received 1500 net income per month and started building another apartment.
- What actions should the authorities take to promote the employment of older people? Since it is not uncommon for employers to specify an age limit of up to 45 years in job advertisements.
- Why do older people need employment? Now there is a process of crowding out labor with robots, the share of intellectual labor is increasing. Why do hundreds of thousands of middle-aged beautiful women have to work as guards, of janitors? Let them rest! They spent their whole lives building socialism. Some even built communism. They gave them a pension of $ 200 - all the same.
The same income can be earned every month if you put $ 60,000 in a bank, Leanid Zaika points out. As an option - buy bonds of the Belarusian railway - and get $ 250 a month.
- Every fool can earn a million, but only a professional can multiply it. Do you know what is the most profitable investment? Education of children. The Japanese have long figured it out. My neighbors' son built a house and bought a car.
- As the popular wisdom says, Belarusians keep children until retirement - in the sense, until the children retire.
- This is the tragedy of all honest Belarusian people. Never do this to children. Tell them: I collected $ 60,000 in my personal pension fund.