Lukashenka Accused West Of Unleashing World War II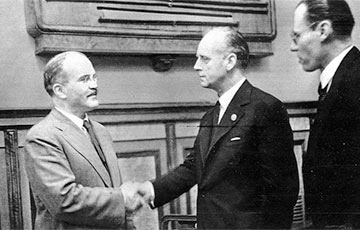 The dictator has once again "paraded" his knowledge of history.
Lukashenka made another scandalous statement in St. Petersburg. Lukashenka responded to the accusations of Western countries in human rights violations in Belarus and Russia with accusations of "unleashing the Second World War," Interfax reports.
"When they criticize us in the West - earlier they did it more often, now it's a little bit less - it's not because they have more conscience now, no. I tell them: you haven't paid us back yet for the last war you initiated on our territory. And we haven't recovered from that hard war in seven decades. Therefore, be more careful with human rights, democracy and other criticism, which we hear, sometimes unreasonably, at our address," - Lukashenka said at the forum of regions of Russia and Belarus in St. Petersburg.
"We have nothing to be ashamed of in our history. We must, as the President (Vladimir Putin) said, protect it sacredly, because it's our greatest asset," - Lukashenka said.
A graduate of the Faculty of History has again demonstrated the gaps in knowledge of the subject. Any schoolboy knows that the Second World War was unleashed by the USSR and Nazi Germany, when they attacked Poland in September 1939.