Dzmitry Palienka Charged With "Insulting Official"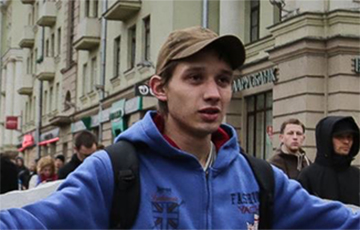 It is not reported who and when the political prisoner might have insulted.
According to Radio Svaboda, the criminal case of activist Dzmitry Palienka was forwarded to the prosecutor's office for submission to the court in early July. But there may be additional charges.
This was stated by the representative of the press service of the Investigative Committee of Minsk, Katsiaryna Harlinskaya: Palienka's case was returned to the Zavadski district IC department of Minsk for additional preliminary investigation "with a notice about giving a legal assessment of Palienka's actions".
The actions "related to the insult of a representative of the authorities" will be assessed (Art. 369 of the Criminal Code), as a result, there may appear additional charges. It is not reported who and when Palienka could insult.
We remind that Dzmitry Palienka was detained on March 20 and was kept in custody without charge until April 5 (although only 10 days are allowed). Various charges were combined into one case:
In the evening of March 13th, according to the IC, Palienka sprayed pepper gas from a spray can in the face of a man who allegedly made him a comment for smoking in the entrance (according to Palienka's girlfriend, it was self-defense - a "drunk and aggressive man" was picking at Dzmitry);
On January 23rd , a criminal case for graffiti "Policemen Kill People" on the building in Zavadski district of Minsk was initiated, where Yauhen Chulitski and Anastasiya Huseva appeared together with Palienka.
Dzmitry Palienka faces from 3 to 10 years in prison. This year, he's already been fined for an "extremist hat".
In 2016, Palienka was sentenced for "violence or threat of violence against an employee of the Interior Ministry" and "production and distribution of pornographic materials or items of a pornographic nature". He was released in October 2018, two and a half years later.
Amnesty International recognized him as a prisoner of conscience. He did not admit guilt then. Belarusian human rights activists demanded the release of the activist. His sentence was called politically motivated.