Belarusian Comedian Usovich Banned From Entering Ukraine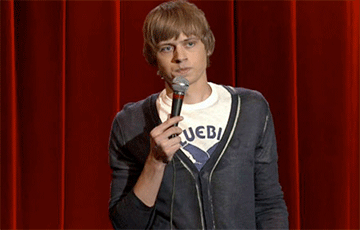 Usovich performed in the Crimea in 2016.
Belarusian standup comedian Ivan Usovich, who performed in Crimea, is banned from entering Ukraine for three years. He reported about it on his page in Instagram. At that, the comedian did not specify the reasons for the ban, Crimea.Realiya reports.
"Unfortunately, I was not allowed to enter Ukraine by the border services, so the concerts in Kiev and Odessa are canceled. I apologize. See you in three years," - Usovich said in the video published in Instagram.
On July 19, Ivan Usovich was supposed to perform in Kiev, but the performance did not take place. The concert.ua website, which sold tickets to the event, reported that the concert was cancelled.
The State Border Guard Service of Ukraine has not yet commented on the ban on the entry of the Belarusian stand-up comedian.
In September 2016, Usovich performed at the TorTuga bar in Simferopol. The video with him was published on the bar's Vkontakte page.
Also, one of the founders of the Stand Up Rec project in Simferopol has posted a photo of Usovich with the geo-tags of Yalta, Crimea, in Instagram.
Foreign artists and other cultural figures violate the Ukrainian legislation when they come on tour to the Crimea annexed by Russia through closed Ukrainian checkpoints. Some artists and singers, who have come to Crimea on tour or who have expressed their support for the Russian annexation of Crimea, are prohibited from performing in mainland Ukraine.
Earlier, the Ukrainian Foreign Ministry issued an appeal warning foreign citizens and stateless persons against illegal trips to annexed Crimea.