Minsk Prisoners Sentenced To Serving Sentence At Place Of Residence Have To Wear Electronic Bracelets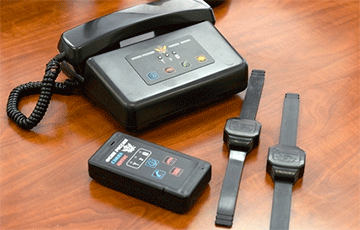 The bracelet cannot be removed or reprogrammed.
Minsk prisoners sentenced to the serving of sentence at the place of residence have started to wear electronic bracelets. These devices improve the system of tracking of all movements of prisoners and allow them not to appear personally for the sake of registering in the journal.
According to the Na Strazhe newspaper, the corresponding pilot project was launched in Maskouski and Kastrychnitski districts of the capital. It will continue until September.
The electronic bracelet resembles a smart watch. It is attached to the leg, fixed by a special device and launched. The bracelet can't be removed or reprogrammed - it reacts to all the damage, however, it's not afraid of water, dust and high temperatures.
Together with the bracelet, the convict is given a mobile phone, by which the inspector can contact him if the alarm is activated or for the sake of regular monitoring. There are scanners in the phone that identify the owner's face and voice. They make the transfer of the device to another person completely impossible. There is a built-in camera for video chatting. A portable charger is used to power the device.
If the battery runs out of power, it can be equated to a runaway, so the convicted person has to keep an eye on that bracelet's charging power.
Modern technologies make it possible to step back from the old way of recording convicts by means of journal entries, which can now be done with the help of a fingerprint. If a person fails to register at the right time, the inspector will immediately become aware of this.
It is possible to monitor the movements of convicts around the clock, and then view them on the computer. Thus, law enforcement officers know whether the offender has violated the ban on visiting restaurants or entertainment facilities.