Officials Take Away Belarusian Woman's Daughter Due To Lack Of Work In Collective Farm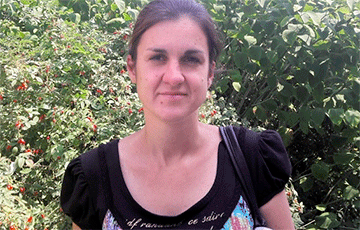 In six months, the daughter of a woman from the village of Zhukevichy may be taken to other people.
The child welfare service took away the 10-year-old daughter Anastasia from Katsiaryna Kuchkarova, a resident of the village of Zhukevichy. Absence of vacancies in the collective farm and absence of alimony from the girl's father caused the social services to define the family of Katsiaryna as socially dangerous, as Radio Racyja reports.
The daughter has been in a children's shelter since February 2019. Katsiaryna Kuchkarova says:
- My daughter was taken away on February 12, because I was given time to find a job and I did not get a job. Allegedly, there were complaints from my mother that I do not feed my child.
Katsiaryna disagrees with the accusations, as she has a difficult relationship with her mother and stepfather. So far, she has been on temporary jobs to keep up her income, but unfortunately she has not been able to find a permanent job. After all, to work in Hrodna, where there are vacancies, she would have to live in rented housing, or in a dormitory, which she can not get. The Human Rights Center Viasna helps Katsiaryna in her appeals to the regional authorities. The human rights defender Viktar Sazonau said:
- It will still be better for the child to stay with her mother when her mother is normal. And here we see that the mother is an absolutely normal person. Not twisted in some alcohol or in bad companies. From this situation it becomes clear that when people would solve this issue, they would say that yes, the child would be better off with his mother. And if the officials solve this issue, they think about themselves: if anything, we will be to blame. And they start to solve the problem from a formal point of view.
After six months in the orphanage, the daughter may be handed over to other people. Katsiaryna Kuchkarova appeals to all people of good will, legal entities and individuals to help her find a job and get housing. It is only when she has this that she will be able to return her daughter Anastasia, who is waiting to be reunited with her mother.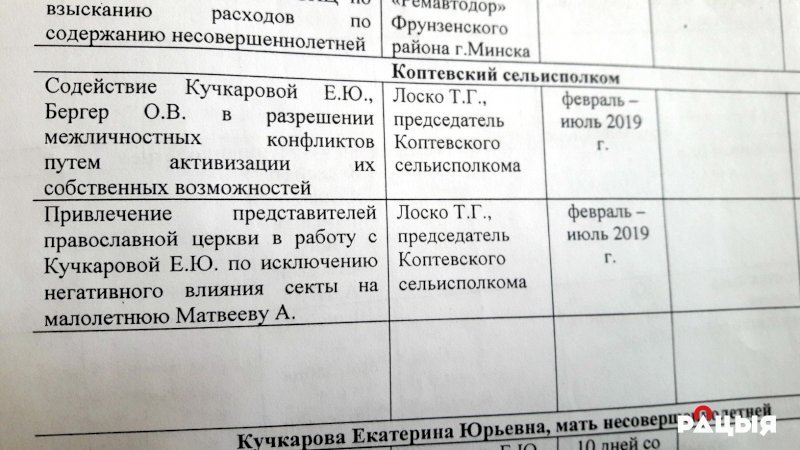 In the photo: After Katsiaryna's daughter was taken to the orphanage, an official "work plan" was drawn up for her mother to get a job by July. Among the points of the "plan" there was a meeting with an Orthodox priest. Although Catherine and her daughter Anastasia belong to the Protestant denomination of Evangelical Christians-Baptists, she was labeled a "religious sectarian."