What Do We Know About Minsk Woman Who Died After Firework on July 3?
8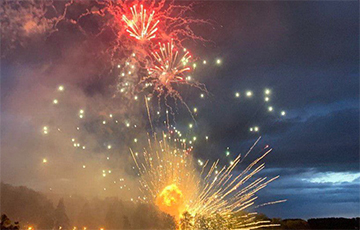 Colleagues and the husband of the deceased tell their story.
A woman died during a festive firework show on July 3, as a result of an unexpected explosion of charges. A fragment hit her carotid, nn.by writes.
Natallia Mikalaueuna - the deceased - died in her daughter's arms. Paramedics attempted to rescue the woman for about 30 minutes, but unfortunately, she died.
Natallia Mikalaueuna was 64 years old. She was retired. Earlier she worked in the training department of one of the institutions.
The husband of the deceased Yury Ivanavich learned about the incident only on the morning of July 4. That evening they were not together.
"My wife decided to meet with her grandchildren at the holiday in the city," the man says. - My wife was with our daughter. I had a bad feeling, but I didn't associate it with my wife then. I was told about the incident only the next day.
He also told journalists that his daughter suffered a hard emotional state.
Journalists also talked to Natallia's former colleague. People use only warm wards when they recall the deceased.
"It's a pity that it happened to her," Volha Aliaksandrauna, a colleague of Natallia says. - She worked in our institution for more than 10 years both in the training department and in the dean's office. Colleagues and students loved her. aShe could give a piece of advice.
I can't even find a word to describe her. First of all, she was a good person and a good employee. She loved her family very much and helped her daughter. She even went on maternity leave for a year to let her daughter work.
We worked together for fifteen years. But it was not just ta work. We went to the country for picnics, played volleyball together, went to the cinema and theatres, shared recipes and joy. Together we celebrated holidays, baked pancakes on Cheese Fare Week... Natallia was a cheerful person always ready to help and support. She used to be sensitive and diplomatic and able to find both approaches to people and compromises. She was OUR NATALIIA MIKALAUEUNA, and she will remain like that. It is hard to realise that a colleague will never call again... In her loving memory!
The farewell ceremony takes place on July 6.