Yury Khashchevatski: Lukashenka Needs Folk Medicine
76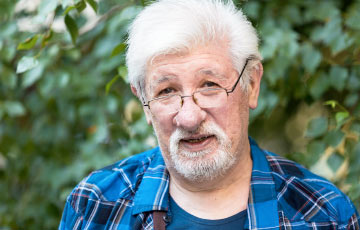 It's time to realize how it may all end.
During a working meeting with Minister of Health, Lukashenka said that Belarus "spends huge amounts of money" to buy drugs abroad - $500 million a year.
The dictator also demanded to turn to the policy of import substitution, and to the replace half of the finished foreign drugs on the Belarusian market with domestic ones, to start producing their own "substances" (components) for drugs.
How can one assess such a "policy" from the standpoint of common sense? The well-known Belarusian documentary filmmaker Yury Khashchevatski answers questions of Charter97.org.
- Recently, the Ministry of Health offered citizens to send them checks with prices for medicines purchased abroad. Now Lukashenka makes a statement... Does it mean that Belarusians can be left without imported medicines at all?
- It is obvious that Aliaksandr Ryhoravich, being the greatest doctor and pharmacist, devotes a lot of time to modern medicine.
Since he has already done bloodletting and thinks it helps him, now, apparently, he is trying to transfer this bloodletting to make it common for all people. It's easier to bury a person than to cure. His "logic" leads to this result.
There is only one problem in the treatment of "doctor" Lukashenka which has been practised for 25 years. This is one complete contraindication.
It is already manifesting itself. I read that a "Maxim" machine gun was cut off from the pedestal in a town. I think that this contraindication should be taken into account because people had a reason for it. It may probably be used against him soon. The chief "doctor" should have thought about it.
Frankly speaking, domestic pharmacists and drug manufacturers should, first of all, think about medicine that washes the brains of our government. That would be better. This treatment should be aimed at Belarus and the Belarusian society: to wash the brains of both the authorities and citizens for them to understand how it may end, while others to realize that this is how it will end.
This power and its chief "pharmacist" should be urgently treated with folk medicine.
And if it is not treated with folk medicine, it will "treat" the Belarusians by its methods and one or two million will be lost in addition to those who have already left Belarus during Lukashenka's reign.
As Vladimir Lenin used to say: treatment, treatment and treatment forever. And it mainly refers to the authorities. But the citizens also should receive treatment for their mistakes and myths taken from the TV.
- Is $500 million a year for quality medicines for Belarusians a lot? For example, $540 million was spent on the European Games...
- It's obvious: if we hadn't spent $500 million on medicines for people, one could have held other games or to build a couple more residences.
Belarusians do not spend their money rationally. They should have spent their money on a new palace or a diamond pistol to Kolya... But the Belarusians are awful: they want to spend it on quality medicines!
So he has to take measures. He has to expand living space in Drazdy or to hold new sports events! People ran, pulled the barbell - and 540 million are lost in the pockets of officials and affiliated business structures. This business plays in the hands of Drazdy "elite" because they constantly lack funds. You have heard Yermoshina's interview about how expensive to keep her house.
So $500 million for medicines is huge negligence of Belarusian citizens towards their ruler.
- The dictator's intention to produce own "substances" for medicines is of particular interest. Belarusian medicines are already considered to be of lower quality than Western ones. Won't it cause further deterioration?
- It is quite possible.
- This is reminiscent of the series "Chernobyl," where the main character says in the final scene that dangerous technologies were used in the nuclear power industry of the USSR, because "it's cheaper". Don't we have a "pharmaceutical Chernobyl"?
- It already exists.
II am 70 years old and need various medicines, but only imported ones help me. There are no Belarusian analogues. I have to bring imported medicines from Lithuania because I cannot buy them here.
And whatever "substances" Lukashenka is trying to produce domestic drugs, it seems to me that this is crap. Because, first of all, they won't be able to produce any substances. Secondly, no normal drugs can be produced from their substances.
We have all faced this at different levels. Under this power, we can't even organize normal woodworking. And all asslickers and fools in high echelons of power. Lukashenka's entourage is as the same as he is...
Guys, let's not even discuss any substances and new plans of Lukashenka. All his plans end with stealing the last money or wasting it. The country does not appreciate intelligence and entrepreneurship.
It won't work. Except for the treatment that was used in the early Middle Ages - bloodletting.
- Concerning the health of children or loved ones, a normal person says "This is not an issue to save on". How do you assess the very idea of the ruler to save on the health of Belarusians?
- There is only one family in our country, whose health condition comes first. This is the family of Aliaksandr Lukashenka.
If there were an opportunity to examine his clinic, it would be interesting to look at drugs and equipment there. How much imported and how much Belarusian...
According to Lukashenka, other people are screws, pawns, flies, thugs, lousy fleas. They do not worth care. What should anyone care about their health?
They need money for skis or a new residence...
This is how Lukashenka thinks. Besides, he has the magic to treat his vertical: he yells at them, he gives them rain when they ask... But this year there is too much rain...
He and Belarus, of course, need treatment. But not from what Lukashenka wants.