Blogger 'Gray Cat': Vorsha Bridge Is About To Collapse While We Talk About IT-Country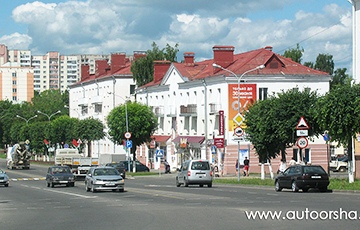 Switch on the Belarusian Television - you will see a country for life, go out into the street - a completely different picture will catch your eye.
Local activist, blogger Dzmitry Kazlou has told the press-center of the Belarusian National Congress about the problems that residents of the Vorsha district are facing today:
- In fact, the issues that concern the residents of our district are not particularly different from those that exist in other regions. Unemployment, low incomes, problems in the housing sector. The average salary in our region is from 250 to 350 rubles. The roads are terrible. The Krapivensky bridge on the Vorsha-Dubrouna highway, along which there is a constant flow of cars, passenger buses, wagons, is about to collapse. It has never been repaired! And at the same time they are talking about an IT country.
People are trying to find work abroad. Previously, the most popular destination was Russia - only a couple of dozens kilometers to the border. Now the situation has seriously changed. There has become fewer jobs in Russia, and wages have gone down. Today, Vorsha is full of ads offering employment in Poland. A huge number of residents travel to the West to earn money.
In Vorsha, where the population exceeds 115 thousand people, there is not a single higher educational institution, but there are two prisons. This says a lot. Young people going to study in Minsk or Vitsebsk try to never come back. The population of the town is declining.
Lukashenka promised many times to raise Vorsha from ruins and ashes, and even officially said that he had done it, but in fact, nothing has changed for the better. On the contrary, it only gets worse. Salaries and pensions do not grow, small business does not develop, despite the statements of the local officials. On paper and in their reports, everything is fine with us. Switch on the Belarusian Television - you will see a country for life, but when you go outside - a completely different picture will catch your eye. People are confused, embittered, they seem to see no prospects.
- Do the residents of the town understand who is to blame for this?
- They understand perfectly well that everything is coming from the center, that Lukashenka is to blame. If you take any problem - it is characteristic not only for Vorsha, but also for any city in the country, it is systemic. If problems have not been solved in 25 years, if there are more and more of them every day, then it's not a head of a district executive committee, but the one who appoints such leaders, and pursues such policy, is guilty.
- Are you going to participate in the "parliamentary campaign"?
- In the real elections after the change of power. And the upcoming "parliamentary campaign" needs to be used in order to involve as many people as possible, primarily those who do not use the Internet, who criticize the authorities, but do not see an alternative yet. We will hold pickets in the streets and squares of Vorsha, where we will discuss the situation in the town with the residents, collect signatures, hand out leaflets, and look for new supporters.
One of the goals of this campaign is to prevent the launch of the nuclear power plant. This applies to the whole country, not only Astravets, where it is being built. I will give an example. Vorsha is a major transport nodal point. Only in the last month, trains were derailed here twice. Nuclear fuel for nuclear power plants will be transported through our region, so imagine what will happen if this occurs again. There will be an environmental disaster. Well, if an accident occurs at the nuclear power plant itself, then we are facing a second Chernobyl with much more dire consequences.
- You have already said about the change of power. How far-off is this goal?
- You know, not far from the settlement in which I live, there is Krapivenskaye field - the site of the Battle of Vorsha, the 505th anniversary of which we will celebrate on September 8 this year. Then, in 1514, our country was in a very difficult situation, vast territories were occupied. But our ancestors, under, to put it mildly, unfavorable conditions, were able to defeat the superior forces of the enemy. Today, Vorsha, and indeed the whole country, is captured by official appointees. People are exhausted under the rule of the invaders. We did not choose them. We need to free Belarus, and I'm sure that we will cope with this task, as our ancestors did. There is little left, and we will try to bring this moment closer together.