Activist Catches 'Chamber Guy' Marzaliuk On Law Violation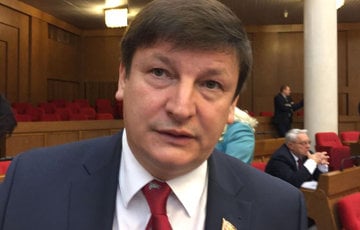 Aliaksandr Khamratau is seeking bringing the "deputy" to justice.
On May 6, 2019, the "deputy" of the "House of Representatives" Ihar Marzaliuk, general director of the TIS-Magmet CJSC Valer Husarevich, and several elderly people solemnly opened the railings in the park near the 30 Anniversary of Victory Street, mspring.online writes. It was done pompously: Marzaliuk and Husarevich even cut the red ribbon, after which they became a meme in the Belarusian segment of the internet.
Activist Aliaksandr Khamratau drew attention to the fact that during the event there were no police officers, ambulances and representatives of the Ministry of Emergency Situations. He appealed to the Leninski district department of internal affairs with a request to conduct a check with regard to "deputy" Ihar Marzaliuk, and start administrative proceedings over the violation of the law on public events.
The police refused to start a case, having referred to "the lack of an administrative offense".
Khamratau did not agree with the decision of the Leninski district department of internal affairs, and appealed it in the court of the Leninski district of Mahiliou. Judge Ihar Shvedau confirmed that the police turned out to be wrong. In his opinion, the status of the event was not established, and the police order contained errors.
He sent the case materials back for the revision. Khamratau, as the applicant, was to receive the second resolution from the Leninski district department of internal affairs. After a month of waiting, the activist turned to the police department of the Mahiliou regional executive committee to find out why the police did not respond to the court's decision and his complaint.
Deputy chief of the Internal Affairs Directorate Uladzimir Ryzhankou responded that the Leninski district department of internal affairs should not have sent a resolution on his complaint, since Khamratau is just a witness.
The activist was outraged by this approach:
- I assess the response of Mr. Ryzhankou as politically motivated. In the first case, they gave me the resolution itself, and the cover sheet with the official response. Now they didn't send anything intentionally, and they also tightened the deadlines so that I could not appeal their actions in a 15-day period, - Khamratau commented on the situation. He intends to appeal to the Ministry of Internal Affairs in order to achieve justice.
As for the grand opening of the railings, the police didn't find any guilt of Marzaliuk either this time.
"A meeting of the "deputy of the House of Representatives" with voters of the electoral district in a predetermined or undefined location, including in the open, is not a mass event," Ryzhankou said.