Lukashenka: Why Turning Up Soil For Dead Cows?
43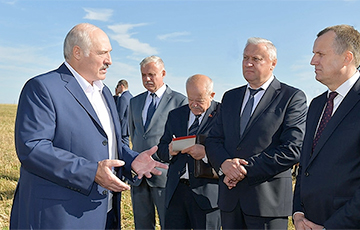 The dictator suddenly noticed what the independent media had been talking about for a long time.
The authorities will look into the reasons for a massive loss of cattle at Belarusian farms at the end of the year, Lukashenka said as he visited Shapchytsy-Agro household during his working trip to the Staryja Darohi district on August 16, BelTA informs.
According to the ruler, the authorities will measure the loss of cattle in every region and in the country in general at the end of the year.
"The guilty will be punished. What for do we plough the soil, produce fodder – for dead cows, bulls and calves? No one needs that," the dictator noted. "This is blatant mismanagement, a true crime. There will be tough punishment for the massive loss of cattle," he said.
Important to note, the independent media repeatedly claimed there was a massive loss of cattle in Belarus. Most recently, the pictures from the Parshyna agro-town in Horki district were published, which revealed shocking mismanagement. In the village of Dabrahoshcha, Zhlobin district, the cows died of hunger.
It is weird that the dictator reacted only now, although the independent media had talked about this for quite a long time.