Barysau District Newspaper Coated Pahonia on the Interviewee's Sweatshirt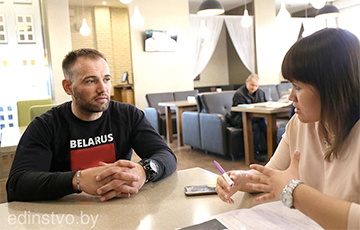 The state media have once again embarrassed themselves.
The Barysau district Edinstvo newspaper has shown the photo of the interviewee with the coated Pahonia.
Viktar Zakharyeu, a CrossFit coach in a wheelchair, was wearing a sweatshirt with the image of Pahonia. The interview was published on the website of Edinstvo, Belsat reports.
The image of the coat of arms Pahonia is included in the "State List of Historical and Cultural Values of the Republic of Belarus". The director of the store with national symbols, Pavel Belous, wrote on his Facebook page.
Edinstvo is a state-owned publication, founded by Barysau District Executive Committee.