Belnpp Workers, Who Demanded Wages, Start To Get Paid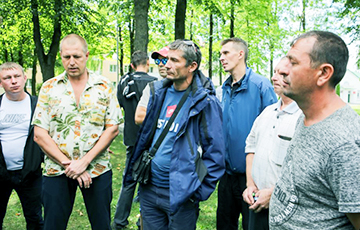 According to one of them, the employer promises to pay people in full by August 22.
On August 15, 50 Russian engineers hired by Sesame company to build the Astravetskaya NPP told Radiyo Svaboda that they couldn't get a salary for several months of work. They said the debt amount was 1-2 thousand dollars. According to the workers, most of them had no money left to travel home to Russia or to buy food and housing at the time of their appeal to the media.
After the issue was covered in the independent media and after appeals to representatives of companies that hired Russians to work in Belarus, they began to buy tickets to Russia for the workers. As one of the Russian installers, Alexander Lychov, said, the workers began to receive their salaries since August 19.
"We were promised to get paid on Monday (August 19)," - Alexander said. - The chief engineer promised to pay for July and now they do. But not to everyone, but only to those who stayed there (in Belarus). Others, who have returned home, have not yet been paid. I also returned to Russia. That is, they pay, but not to everyone. It happens sometimes that they owe 70 thousand rubles and pay only 60 thousand rubles. They promise to pay in full on Wednesday and Thursday. We are still waiting."
Journalists sent an official request for clarification of the situation to the Astravets NPP Construction Directorate. There is no answer yet.