Andrei Pavuk: Blogger In Kastrychnitski Is Second Power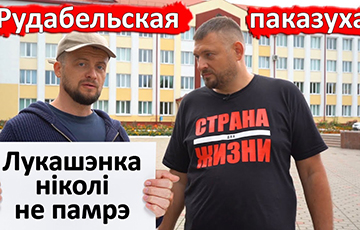 Most common people support independent bloggers in their towns and cities.
Siarhei Tsikhanouski's Country for Life Youtube channel published an interview with Andrei Pavuk, the creator of the Rudabelskaya Pakazukha blog. This video opens a series of interviews with Belarusian bloggers who run their own Youtube channels and solve social problems of Belarusians.
Andrei Pavuk has been running his own Rudabelskaya Pakazukha channel in Kastrychnitski since 2014. He believes that it is necessary to enlighten and educate the population, and, first of all, to start with the village. Andrei is confident that he is engaged in the necessary and important work. He calls himself "the second power" in Kastrychnitski. Most ordinary people support Pavuk and officials listen to him.
Andrei believes that one of the most important achievements is the collection of signatures for the purchase of an ambulance. The provision of medical services in the region is very low. Andrei also helps local residents solve problems with labor relations at the enterprises. All this has to be done because there is no honest television in the country.
However, Andrei believes that our people, those who do not want to change anything, are scarier than the regime.
The system reacts to bloggers and recently Andrei was prosecuted for "mining". The law enforcers claim that he sent a notice about the mining from his e-mail. So far, Andrei has failed to get an answer from the prosecutor's office about that.
Pavuk would have left Rudabelka a long time ago, but his family, children, obligations to people and love for his homeland do not let him do it.
Andrei often held single-person pickets in Kastrychnitski. He always wrote humorous texts on posters and he was never detained. For example: "There are no jerks and scumbags in our police department. If it is not so, punish me". Pavuk recommends all the activists to praise the authorities with humor. And then no one will punish you.
People are very slow to get educated and enlightened. Even a whole life is not enough to change something and see the changes. To live in a country for life, we need to change the whole generation. People ought to make their own decisions, not wait for a hero, a new leader. We are to ask questions to officials, not remain silent. Our indifference hinders us from living in the country for life.