Dzmitry Bekaliuk: We Must Destroy System From Inside
2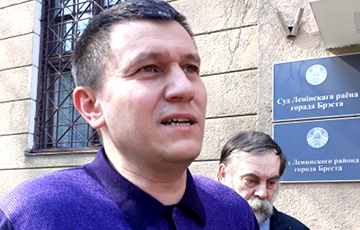 Officials ignore the opinion of Brest citizens.
The appeal, which was sent to the Council of Ministers of Belarus, was forwarded to Brest region's "Council of Deputies" and the regional executive committee, Radio Racyja reports.
Thus, the officials ignored the opinion of Brest citizens, who are against the battery factory near Brest, Dzmitry Bekaliuk, one of the active protesters, said:
- We should go to the "elections" with the nomination of our candidates, that is, we must destroy this system from the inside. The system cannot be self-controlled, it does not perceive the flagrant facts of violations. The people must nominate their candidates they trust, go to the "elections," promote their interests, as well as live in a lead-free place.
Additionally, Prime Minister Siarhei Rumas, Chairman of the Council of the Republic of National Assembly Mikhail Miasnikovich and Minister of Industry Pavel Utsiupin were supposed to receive the open appeal.