Drazdy Dreamer Has His Bathyscaphe Prepared
37
Uladzimir Khalip
7.08.2019, 7:31

47,228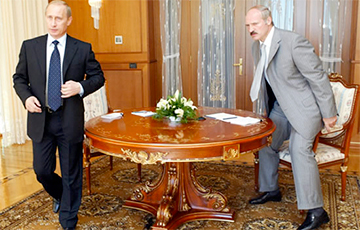 Don't relax just yet.
The ghost of "further integration", which pursued the country for six months, is still alive. It still wanders along the line where two handymen once dug up a boundary pillar. Since those memorable times, the country has allegedly had the eastern border. But if you look closely, it does not exist. That's why the insolent ghost, waiting for proper papers to be prepared, is wondering whether to give a damn about all these conventionalities.
Summer is the holiday season. Everybody does not care about politics. And if there is an unforeseen pause in the rainy program of this weird season of changes, one wants to go to the ocean beach or at least a small lake, just to get away from this stupid way of life, which once we so carelessly imposed on ourselves. But what to do, if everyone faces the same old problems? The horizon seems to be clear and there are no men without insignia. But this ghost is still there. It hasn't been gone with the wind and even the authorities confirm it.
Prime Minister officially reported on camera: "All the initial terms, earlier established, must be met. The government and its colleagues are starting to agree upon the issues of further integration with the Russian Federation." Great! And the citizens were naive to think that a tricky government would take some time off to see the real scale of upcoming fortunes. The ruler, anticipating its scale, had a pilgrimage to the holy places. But it did not work. Alas, he is not the one who runs the show.
The country keeps silence. But this long-lasting silence brings no good to the authorities. Everyone remembers the spring of 2017. It was the time of peaceful silence for all local petty tyrants. Some even thought that people were frightened and obedient. Otherwise, the first version of the odious decree on parasites and all subsequent statements on the matter would not be so cynical and insolent. The consequences were not long in coming. The country will hardly swallow all the preparations for the new elections and the coming December.
What is our immediate prospect, if one assumes that Drazdy deviousness will beat the Kremlin's one, and the current surge in integration will slip through a crack? It will be fantastic.
The economists have already managed to assess the possible success on the results of the half-year. To start climbing out of the vast swamp, we have been drowning in for the past twenty-five years, annual GDP growth should be at least 5-7 per cent. Local authorities plan it at 2.5 per cent. And the reality is 0.9 per cent over the first half of the year.
The whistleblowing takes too much energy. Debts that have been accumulated for years of lush life are through the roof. Annual payments on these debts are almost unsustainable. The authorities have blocked all opportunities for a normal life. And the ill-fated thousand rubles announced as the average salary, remain ghostlike.
However, there is a person in this depressive state who knows well that there is a completely different perspective. In unfavourable conditions of endless crisis, he managed to create an oasis on his land plot. There is no greed and foul play. He did not do it for himself. He just wanted to show how the country would look like under his wise guidance. It will happen quite soon. In a few years or decades. When prosperity will fill every house and every corner.
One can visit his website and watch short videos full of optimism. One can see this ruler walking tall along a well-tended path. It's early in the morning. Silence. Even birds of all kinds see the significance of the hour and remain silent. There are some cedars. These are hardly dressed up guards, but they keep the line.
Poor panorama pleases with comfort and prosperity. There are grateful fields, vegetable gardens, plantations of personal pineapples and other rare things, well-tended lawns, groves. There is a pond and a gazebo decorated with carvings of oriental masters.
And here comes Shavkat Mirziyoyev, a colleague from Uzbekistan. He just went for a walk in his garden, but his heart suddenly drew to his friend. No distance can divide true friends. That was such a joyful meeting and exchange of gifts. Uzbek craftsmen made a full-length of the hockey player. It has a gilded ornament on the shoulders and back. Iron mustache. As usual, there is the name on the back. And the numbers are 01. It's a team or a phone number to call the appropriate service. It's very practical. Everything may happen in such a large household.
East is usually a fairy tale. This is the Silk Road and vast opportunities to turn nothing into something. But the friend from far away promised his colleague something very specific - a quite legal window on the border for the delivery of local goods to Afghanistan. So the prosperity of our dynamic country is already in the trade agenda unless unpredictable Putin suddenly prevents us from doing this. And will not put all these plans on "further integration".
They're still trying to solve a strange mystery in that troubled space. Why did Putin suddenly plunge to the bottom of the Gulf of Finland in a bathyscaphe on that August day, when Federal National Guard Troops Service and policemen started to tame all those dissatisfied and used harsh methods before upcoming elections? There were poisonous guesses: he might be scared! It's barely possible. May he be in a hurry, trying to prepare the final act of "further integration"? He was looking for a safe place. So that this time his ally could not avoid the final decision upon the issue. Everything has long been tested. Neither the Kremlin, nor Sochi, nor even Valaam Island will be reliable enough for such an affair. But the bathyscaphe on the bottom of the sea is exactly what he was looking for so long.
There are two in the darkness of the sea. There are air bubbles behind the convex glass. Short and clear order "it's time!" is voiced. A cushioned KGB voice follows: "If we do not sign the agreement, everyone will have to make his way to the surface."
And how should an ally act after that, if the window to Afghanistan is about to open? It happens when our country is ready to adopt Drazdy way of life.
If only we could brave out this ominous December with its unexpected anniversary!
Uladzimir Khalip, especially for Charter97.org