"We Demand Return Of Benefits And Determents For Students"
6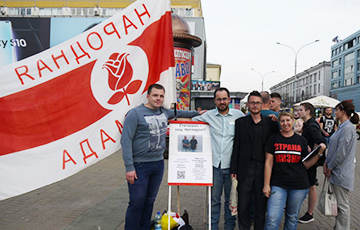 Narodnaya Hramada has held a picket in Minsk to collect signatures.
Yesterday another picket to collect signatures for Narodnaya Hramada activists took place in Minsk. Our slogans are: "Lukashenka Must Resign" and "Statkevich is our President," the hramada.org website reports.
The main topic of this picket was the problems of young people. Narodnaya Hramada demands the restoration of all benefits for students, return of determents, abolition of mandatory graduate placement, free and quality education, dissolution of the BRSM.
It was possible to join the initiative group of presidential candidate Mikalai Statkevich at the picket. Just as it was on September 9th, about 40 people took advantage of it. Three young people expressed their desire to join the party.
Narodnaya Hramada invites you to its next picket to collect signatures, which will be held today (Wednesday, September 11) at 14:30 near the Palace of Sports.