Today, Henadz Karpenka Could Have Celebrated His 70th Birthday
6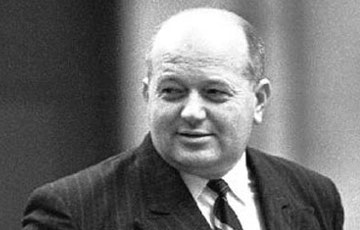 One of the most authoritative Belarusian politicians was born on September 17, 1949.
Henadz Karpenka was born on 17 September 1949 in Minsk. He graduated from the Belarusian Polytechnic Institute. He worked at the Institute of Nuclear Power Engineering of the Academy of Sciences of Belarus. Since 1983, he worked in the NGO of powder metallurgy.
In 1987-1990 he was the director of the powder metallurgy plant in Maladzechna.
In 1990, he was elected Deputy of the Supreme Soviet of the 12th convocation, and then Chairman of the Commission on Science and Scientific and Technological Progress. In 1991-1994, he headed the Maladzechna City Executive Committee. In 1995 he was re-elected as a deputy of the Supreme Soviet. He was appointed Deputy Chairman of the last legitimate Belarusian Parliament.
In 1996, Henadz Karpenka was one of the initiators of the impeachment of Lukashenka, which was initiated by the deputies of the Supreme Soviet. Two years later he headed the National Executive Committee established by the Belarusian opposition. Henadz Karpenka could compete with the current government and become president of Belarus in 2001.
He was Doctor of Technical Sciences, corresponding member of the National Academy of Sciences, Honored Scientist of the BSSR, laureate of the State Prize for Science and Technology. He is the author of 40 inventions.
Henadz Karpenka died of a brain haemorrhage at the age of 49 in the morning of April 6, 1999. It happened a month before the alternative presidential elections. Its supporters refused to recognize the amendments to the Constitution imposed by Lukashenka. They implied prolongation of his power as president.
A month after the mysterious death of the politician, one of his closest associates, Yuri Zakharanka, disappeared without a trace, while six months later the second one, Viktar Hanchar, was kidnapped together with businessman Anatol Krasouski in the center of Minsk.
The true causes of death of Henadz Karpenka are still unknown. He never had complaints about his health. Relatives and opposition representatives doubt the natural causes of death and believe that the Belarusian authorities were involved.
The wife and children of the opposition politician had to leave for Germany, where they received the status of political refugees, because of constant persecution and pressure from the regime.
In 2009, well-known politicians, representatives of the creative intelligentsia and public figures appealed to the capital city executive committee to name one of Minsk streets after Henadz Karpenka, but the authorities rejected it.