U.S. Deputy Secretary of State Meets with Opposition Leaders in Minsk
14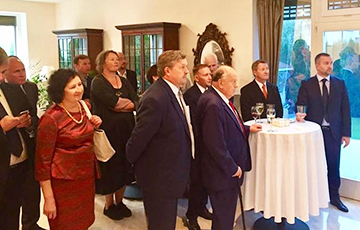 David Hale held talks with Stanislau Shushkevich and Mikalai Statkevich.
U.S. Deputy Secretary of State David Hale held a meeting with representatives of civil society and opposition political forces of Belarus on September 17, nn.by reports.
"To express America's deep commitment to the protection of human dignity and fundamental democratic principles," the official report of the U.S. Embassy says.
The leader of the Belarusian National Congress, Mikalai Statkevich, the first head of the independent Belarus, Stanislau Shushkevich, representatives of the BCD Pavel Seviarynets and Vital Rymasheuski, leaders of the BPF Ruhor Kostuseu and Aliaksei Yanukevich, chairman of Spravedlivy Mir (Fair World) Siarhei Kaliakin, deputy of the "House of Representatives" Alena Anisim, human rights activist Ales Beliatski were present at the meeting.
Mikalai Statkevich and Stanislau Shushkevich had a brief talk with David Hale. "The meeting was short. I was informed that only two representatives of the democratic forces - Stanislau Shushkevich and I - would have a personal conversation," Statkevich said.
"I expressed my gratitude to Hale for the meeting not only with Lukashenka but also with his opponents. I said that the meeting was of great importance for 80-90% of Belarusians, who were against Lukashenka. It is important that America adheres to its position of supporting democracy and freedom all over the world.
In his speech, David Hale noted the positive side of the decision on embassies: there will be more people who will be able to work with civil society. He confirmed the moral position of the U.S. that the values of freedom remain unchanged," the BNC leader said.
Deputy Secretary of State David Hale visited Belarus on September 17. He held a meeting with Lukashenka and laid flowers in Kurapaty.