"Lukashenka will have to answer personally"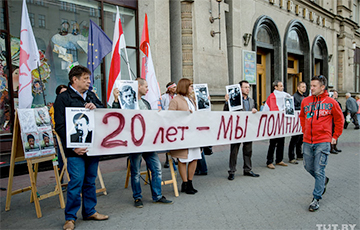 In the center of Minsk they remembered the disappeared opponents of the ruler.
20 years ago, on 16 September 1999, Viktar Hanchar and Anatol Krasouski were kidnapped. In the same year, former Interior Minister Yuriy Zakharanko was killed, while one of the opposition leaders, Hennadz Karpenka, died for unexplained reasons. Later, journalists Veranika Charkasava and Aleh Bebenin died. Human rights activists and opposition representatives are confident that the Belarusian authorities are involved in these deaths, the press service of European Belarus informs.
At one time, there were Solidarity Days in Belarus on the 16th of each month. Yesterday European Belarus activists revived this tradition and reminded Minsk citizens of the missing politicians, journalists and public figures. At pickets in the center of the capital there were portraits of the dictator's disappeared opponents, while people were given information about them. A memorial rally was held on Independence Avenue in the evening.
"They will have to answer for all these crimes, for everything that the regime did against the opposition, against journalists. Lukashenka will have to answer personally. But for this purpose it is necessary to impeach him from power. For this purpose, we are running our campaign. We remember the crimes of the regime and will never forget about them. Viktar Hanchar, Anatol Krasouski, Yury Zakharanka, Hennadi Karpenko, Aleh Bebenin, and Dzmitry Zavadski will remain in our memory forever," the coordinator of the civil campaign European Belarus, Maksim Viniarski, said.
The picket lasted from 16:00 until late at night. At different times, he was joined by representatives of other opposition organizations and parties.