Leanid Sudalenka Helped REP Trade Union Set Record
3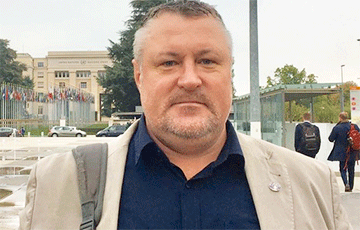 The independent trade union has won by court action a record amount of moral damages.
On 17.09.19 the court of Savetski district court of Minsk issued a verdict in respect of the joint suit of the relatives of the employees of the JSC Trust Belsantechmantazh No. 1 who died in the car accident near Asipovichy. Interests of relatives were represented by Leanid Sudalenka, lawyer of the REP trade union, praca-by.info reports.
The court satisfied the claim for recovery of moral damage in favor of the widow of the deceased Aliaksandr Ziametski and his minor daughter, as well as in favor of parents, brother, wife and minor children of the deceased Vital Sheuko. The total amount of moral damages was 370,000 roubles (about $185,000). Earlier, the same court awarded compensation for moral damage in the amount of 35,000 rubles to Viktar Rabianok, who had lost his health in the same accident.
Leanid Sudalenka, a lawyer of the REP trade union, who represented the interests of the families in court, comments on the case:
"The court took our side in determining the amount of compensation for moral harm to the deceased workers' relatives. Of course, no amount of money can return sons to parents, husbands to wives, and fathers to children. However, the amount of compensation for moral damage will allow to set the underage children of the deceased on their feet and help the elderly parents. The issue of compensation for moral damage is not a question of earning money on blood, as the employer sometimes tries to claim in court. It is a question of restoring justice.
The final court decision is that the chemical plant will pay 50,000 rubles to the parents of the deceased employee.
The court's decision was also commented by member of the REP Trade Union Council Andrei Stryzhak:
"A series of cases, in which we have been helping the relatives of the deceased to restore justice, began with the recovery of 50,000 rubles in favor of the parents of Viktoryja Papchenia - a girl from Maladzechna, who died on the field while harvesting potatoes. These decisions should bring to the employer a simple idea - violation of safety regulations and working conditions are fraught with death of people and serious financial losses for the enterprise. Both the first and the second can be avoided if the employer actually cares that all the employees return home safe and sound".