Photo Fact: National Flag Day Celebrated In Minsk Center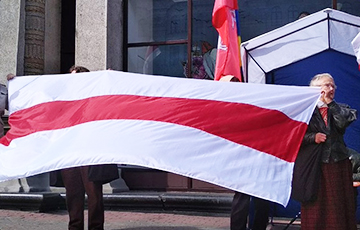 The festive pre-election picket of European Belarus began on Nezalezhnastsi Avenue near GUM.
Activists unfolded white-red-white flags, flags with Pahonia and the symbols of the European Union. Patriotic music sounds at the picket, while passers-by are told about the history of our true symbols, the press service of the civil campaign European Belarus informs.
We remind you that on September 19, 1991, an extraordinary session of the Supreme Council adopted the new name of the country - the Republic of Belarus, as well as approved the state symbols - the coat of arms of Pahonia and the white-red-white flag.