Siarhei Antonchyk: The Power Will Change and Our Flag Will Fly Over the Country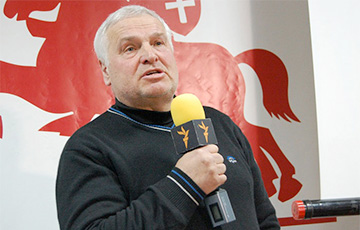 Today is the Day of National Symbols of Belarus.
The white-red-white flag and the coat of arms Pahonia are state symbols. The Republic of Belarus is the official name. This decision was taken by the Supreme Soviet of Belarus of the 12th convocation after the collapse of the USSR on September 19, 1991, Belsat writes.
Spring that came in September is a historical symbolism instead of the Soviet one, and it's almost a year when the Belarusian language is the only state one.
Pahonia and the white-red-white flag, which became the first flag of the Belarusian People's Republic in 1918, remained the state symbols of independent Belarus for only four years. At the initiative of Aliaksandr Lukashenka, a "referendum" was held. Four issues were raised: the state symbols, language, integration with Russia and the right of the president to dissolve the parliament.
Siarhei Antonchyk believes that only the change of power makes the return of national symbols possible. At the same time, the former deputy of the Supreme Soviet remains optimistic.
The coat of arms "Pahonia" and the white-red-white flag belong to all generations of Belarusians. New generations will come, power will change and our flag will fly over the country, while our coat of arms will shine on the uniform of our soldiers," Antonchyk emphasizes.
In 1995, the flag of the BPR and the coat of arms of "Pahonia" lost the status of official symbols, but the citizens' reverential attitude remained. These symbols are alive. They are on cars and souvenirs and remain the standard of the Belarusian national movement.
That's what the Belarusians say about it:
"This is at least a crime. I am 30 years old. And I'm ashamed that I don't speak the Belarusian language in my daily life".
"We should speak the Belarusian language because when you come to Ukraine, they speak their language. You come to any other country abroad, there they also speak their language.
"We are Belarusians and we must defend our independence. If we do want it, we must have our symbols".