'We Have Everything In Limbo'
9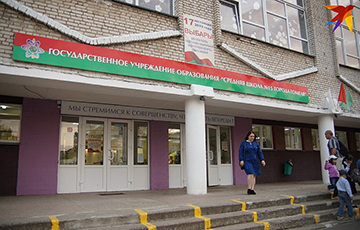 They still don't know in the Homel school who will be the Headmaster.
They still have no idea in the Homel school #15 whether Headmistress Maryna Charnenka has officially been dismissed, and who will perform her duties.
Neither Maryna Charnenka, nor Deputy Headmaster of secondary school #15 Liudmila Yauseyenka is currently at work. The secretary at the reception has been unable to tell whether the official order to dismiss Charnenka came and who is now fulfilling her duties.
"Nobody knows anything at school, we have everything in limbo," belsat.eu reports.
Another contact number on the school's website was answered by a social educator. She also does not know anything about who is currently acting as the principal of the school. However, she reported that Liudmila Yauseyenka was called to the executive committee this morning.
The education department of the Navabelitski district of Homel also refused to tell who is currently acting as the school principal.
On September 12, during the lessons, the teacher of secondary school # 15 Liudmila Chatsviartkova swore at a fourth-grade student, using foul language, threatening to kill him with a school desk. After the video was published, a commission from the regional executive committee visited the school, the teacher was fired.
On September 18, it became known that the teacher was reinstated at work by the personal order of Lukashenka, but the school headmistress was fired. Some regional and city officials of Homel were also fired. Lukashenka also warned the Prime Minister, the Head of the presidential administration, and the Deputy Prime Minister supervising the branch. The Minister of Education was warned of incomplete official compliance.