National Anthem, Flag Day Celebrated In Hrodna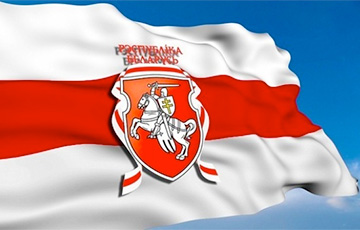 28 years ago, the historical symbols of Belarus - the "Pahonia" coat-of-arms and the white-red-white flag - were returned to Belarus.
The activists collecting signatures for the nomination of Vadzim Saranchukou as a contender for a parliamentary candidate to the "chamber of representatives" celebrated this day in a central city street. Only the changing weather hindered with them. Here is what the signature collectors said, according to Radio Racyja.
– My name is Hanna Hryhencha. We are collecting signatures. This is only the beginning. The weather is bad. Let us hope the people will support us.
Siarhei Verameyenka, the BCD:
– When you're alone, it's good only to eat bread. You will get all of it then. As for good deeds, it's better to do them together. I see we are doing great. Thank God for this! I hope we will succeed.
The picketers arranged the "National Anthem and Flag Day" for Belarusians, using creative approach, and this attracted the passers-by, which means, potential signers. Vadzim Saranchukou, who attends all pickets together with the activists of his nomination group, says:
– Today is the 28th anniversary since the Supreme Council adopted a resolution to make the white-red-white flag and the "Pahonia" coat-of-arms the state symbols of the Republic of Belarus. That is why we are having a thematic picket on collecting signatures, and a flash-mob action. We are offering passers-by, the residents and guests of our city of Hrodna, to take a picture with the white-red-white flag, holding the "Pahonia" coat-of-arms in hands, to post the photo in the social networks and show there are many of us, and these are our symbols.
The pickets to collect signatures for the nomination as a parliamentary candidate of Vadzim Saranchukou, Deputy Head of the BPF party, has been held for a week and will last till October 12. According to the activists, several hundred people have already signed for Vadzim Saranchukou. The pickets are held daily in the Savetskaya Street at 5 to 7 p.m. on weekdays.