Defenders of the Sovereignty of Belarus Stand for Their Rights
4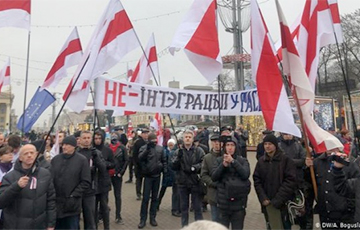 Homel activists and bloggers caught "judges" in disregard of the Constitution.
January 29, Homel regional court opens consideration of the complaints of last year's participants in the rallies who defend the country's independence. They are blogger Siarhei Tsikhanouski and activist Uladzimir Nepomniashchykh reports Homel Vyasna.
Late last year, Homel residents took part in protests against the integration of Belarus and Russia. According to reports of law enforcement officers, they were active participants in the protests, and shouted out slogans "Long Live Belarus".
Nevertheless, the district courts in Homel assessed their activity differently. While Judge of Tsentralny District of Homel Alesya Osipava fine Uladzimir Nepomniashchykh 20 basic points, her colleague from Savetski District Court, Alena Shayn, sentenced Siarhei Tsikhanouski to 15-day detention.
Both complaints of activists to the regional court stated that the courts had taken responsibility for the disregard of the Constitution, as they refused to take decisions in strict accordance with Articles 2, 7, 8, 21, 22, 23, 33, 35, Article 19 of the Universal Declaration of Human Rights and Articles 19 and 21 of the International Covenant on Civil and Political Rights.
"The conclusions of the courts are driven by our participation in an unauthorized rally on Kastrychnitskaya Square in Minsk. We accept our participation in the rally to defend the Belarusian sovereignty. However, the courts had to but did not consider our participation as the act promoting national security, public order, morals, health, rights and freedoms of other people," Homel residents wrote in their complaints.
Human rights activist Leanid Sudalenka, who helps activists to defend their rights, claims that the state has excessively interfered with the rights of its citizens. It led to a violation of their rights to peaceful assembly and, consequently, to the expression of opinions.