A Gift of the Moscow City Hall Painted Red in Minsk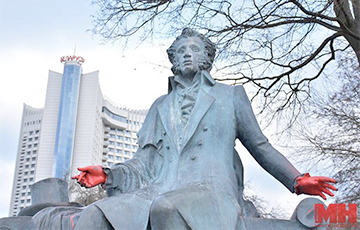 The police work at the scene.
In the capital, someone painted Alexander Pushkin monument red near the hotel Belarus. Minsk Novosti informs.
Minsker Maria walked along the park with her dog and saw Pushkin's hands red.
At the moment the police work at the scene.
Alexander Pushkin monument in Minsk was erected on 10 July 1999 on the occasion of the 200th anniversary of the poet. The Moscow City Hall made such a gift to the Belarusian capital.