"Basta": Clowns In Aiguillettes Won't Save Mad Dictator
27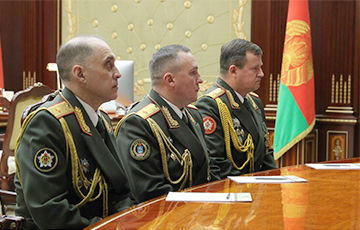 The ruler has been shuffling the deck too often lately.
Miasnikovich resigned in early December, a new head of administration, replacing a dozen of top executives at the very end of the year. Yesterday, Lukashenka replaced the leadership of the Security Council, General Staff and the Ministry of Defense. And all this - on the eve of elections, in the midst of "political bacchanalia". Even successful rulers do not do this, this is a dangerous thing, the Basta telegram channel writes.
The dictator does not hide the reasons for his decisions: "the time is hard." He knows better than you and me about it. The rating is zero, the only ally has set unacceptable conditions, the officials openly discuss what will happen after. There is no one to trust - everyone is fed up, everyone is waiting for the right time.
"This does not mean that tomorrow there will be a war and we will have to fight with someone - under no circumstances," - he is desperately trying to convince - no, not the new-old appointees, - but himself.
The war has been on for a long time now. A war with his own people, brought to the brink of survival. The clowns in aiguillettes will not save the mad dictator.