Putin's Plan B And Lukashenka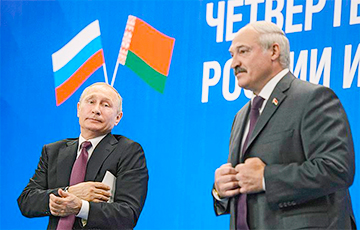 Belarus may face serious economic difficulties.
Vladimir Putin has revealed a model by which he will remain at power after 2024. It will weaken the role of the next president, strengthen the rights of the State Duma, and he himself will probably head the Council of State, which will receive appropriate powers. Good news for the sovereignty of Belarus. Until that moment, it seemed that in-depth integration existed for the sake of creating a new job for Vladimir Putin. If not, then what fate awaits the so-called union state and the economy of our country? About this - in the material of Belsat.
Two out of sixteen problematic sections of the Druzhba oil pipeline are undergoing repairs. This will not affect the volumes of the Russian oil transit to Europe, Belarus assures. But the repair began after the head of Belarus threatened to seriously deal with the "friendly" pipe.
"If the Russian market for 25 million tons of oil and 22 billion cubic meters of gas goes somewhere - do not blame me," Lukashenka said.
A year of work by the governments of Belarus and Russia on deeper integration ended with a suspension of discussion: Belarus insisted on preferential oil prices, and refused to sign the 31st roadmap, developed by the Russian side.
"This is a plan for the construction of supranational bodies: the government, parliament, perhaps the president, and so on ... Putin and I agreed not to talk about this topic at all," said Lukashenka.
Analysts called the presidency in the so-called union state the next place of work of Vladimir Putin, who, according to the Constitution, cannot run for president of Russia in 2024. But the owner of the Kremlin,m apparently, chose "plan B".
Vladimir Putin, the President of Russia, said:
"I consider it necessary that the citizens of the country should vote over the entire proposed package of amendments to the Constitution of the Russian Federation."
Less power to the next president. More powers - to the Parliament, and a special role - to the State Council, which is likely to be headed by the current head of Russia. So his presidency will expand to national leadership.
"The idea of creating the so-called union as a way to extend Putin's powers has been abandoned. I believe that this will sharply reduce Russia's attention to Belarus, to the project of the so-called union state. Unless by inertia, this process will be continued in order to greatly reduce economic preferences on the part of Russia," said political observer Valer Karbalevich.
To receive these preferences and maintain power, the head of Belarus a year ago got involved in deeper integration - it follows from his reaction to not receiving benefits on energy carriers. Putin's choice of an alternative way to stay in power calls into question the project of the in-depth integration. If this is a dead end, then ...
"Gas prices will rise," continues Valer Karbalevich. "Russia no longer gives loans to Belarus (last year it gave none). I believe that certain problems may arise with the export of Belarusian products to the Russian market. That is, we may be deprived of preferential conditions."
Economic restrictions already apply to a number of domestic food production enterprises. Even before the second round of signing general integration documents, Dmitry Medvedev, the then Prime Minister of Russia, reminded Belarusians:
"Everyone understands what market for Belarusian goods is ... Are you saying the European market? Who wants these goods there? Yes, no one. Of course - the Russian market. And this must be appreciated. "