Homel Activist Protests Against Ban On Peaceful Assembly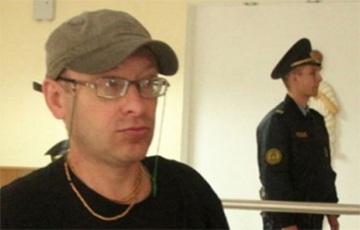 Officials believe that they can set their own rules of playing football and chess.
On January 22, activist of the United Civil Party (UCP) Mikalai Piashko filed an application with the Homel City Executive Committee for holding a protest rally, during which he plans to draw public attention to the impossibility of holding mass events in the city, gomelspring.org reports.
The activist announced holding a picket with up to 10 people on Saturday, February 8, from 1 p.m. to 2 p.m. on the open ground in front of the Homel department store. Thus he plans to draw public attention to the permanent city authorities' ban on holding peaceful assemblies by citizens.
The applicant reported that the officials had set up only three places for public events in the regional center, which has more than half a million people, two of which are located in forest belts on the outskirts of the city. Moreover, he believes that another problem is the obligation for the organizers of the assemblies to pay for the services of the police, ambulance and sanitary cleaning of the city.
"There are other rules on holding public meetings during elections, allowing to hold them where they are not prohibited. I believe that such a procedure should always be in place, not just to attract voters to the voting," - Mikalai Piashko states.
Human rights activist Leanid Sudalenka believes that organizers of peaceful assemblies should have the right to choose a place where their target audience can see and hear them.
"When the state restricts a person's right to assemble by declaring a common interest, it should facilitate the exercise of the right, instead of seeking to limit it excessively or disproportionately. We have repeatedly defeated city officials in the UN Human Rights Committee on such issues, but they believe they can set their own rules of playing football and chess," - Sudalenka commented on the situation with freedom of peaceful assembly.
We remind that quite tough sanctions have been imposed for holding unauthorized mass events in the country - up to 50 basic units of fine (1,350 rubles) or even administrative arrest up to 15 days.
Earlier, Mikalai Piashko was arrested for participating in the "March of Non-Parasites" for 7 days, and the court fined him 20 basic units for holding an unsanctioned event against the death penalty.