Nina Bahinskaya Held Original Performances In Minsk Court
6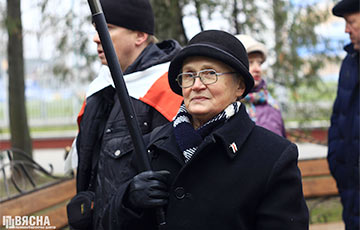 The activist occupied the place of the judge and delivered a speech.
Well-known activist of the Belarusian democratic movement Nina Bahinskaya held an original performance at the Maskouski district court in Minsk, euroradio.fm reports.
On January 24, activist Alana Hebremaryam was tried there. She was fined Br810 for participating in the anti-integration campaign on December 20.
After the end of the trial Bahinskaya occupied the seat of the judge and made a speech in front of several dozens of people gathered at the trial (the video was posted on the @wish_happy_2020 telegram channel). She criticized the judge and the situation in the country. The activist's performance was recorded on video by a man in civilian clothes.