Director Of General Sponsor Of FC Haradzeya Mikhail Kryshtapovich Taken Off "Minsk-Munich" Flight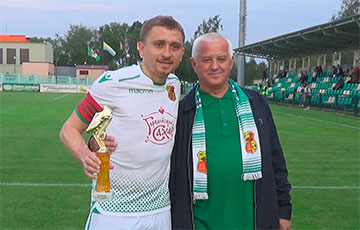 There's no official information on the causes of what happened yet.
On January 24, an aircraft flying from Minsk to Munich made an emergency landing in Hrodna.
According to the media, the Belavia plane was turned over Poland. After that it returned to the Belarusian airspace. The incident was first explained by the technical problems, but then the arrived border guards took six people off the flight. They took six people off the flight with carry-on and luggage. The plane then took the initial course again and delivered the passengers to their destination with a delay of several hours.
Onliner.by writes with reference to an eyewitness: "People in green uniforms came in - most likely, the border guards. They called several passengers (six of them: two from one family, four - from another, if I'm not mistaken), took them outside with their belongings. They searched the places where they were sitting. <...> The passengers who were supposed to go out were called by their last names. Probably it was a husband and wife and their parents who were older. It seems that four more people were taken out, but then they were returned (probably, they were with small children, but I'm not sure). They looked disappointed, which was natural, but they weren't hysterical either. Two of them and four of them were with the same last name. All the named people were sitting together in a big company before the flight, I think, even had a glass of champagne. But they weren't drunk."
According to the source of the portal, the uniformed people mentioned two surnames for the six passengers - Rudnik and Kryshtapovich.
According to the information of pressball.by, received from several sources, Mikhail Kryshtapovich is among the citizens, who were taken off the flight to Munich. He is the director of the Haradzeya Sugar Factory, the general sponsor of the Haradzeya football club. 63-year-old Mikhail is a big fan of football, the team's rise from the village of Niasvizh district to elite heights should be connected first of all with the support of the enterprise he heads.
There is no official information about the reasons for the incident yet.