Leanid Zaika: Comrade Lukashenka, Remember the Fate of the USSR When Initiating "Sugar Case"
39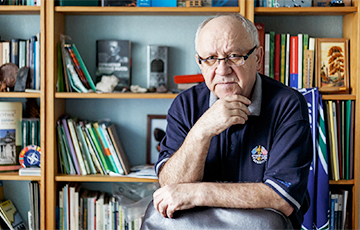 What does the Belavia story with the diverted plane demonstrate?
An almost detective story happened in Belarus on Saturday: Belavia plane heading from Minsk to Munich was diverted over Polish Wroclaw. It landed at the airport in Hrodna. Then a man in uniform, covering his face with a scarf, named two surnames and several people were taken off the board. The other passengers were asked to leave the salon and it was then searched.
Later it became known that two heads of sugar plants together with their families most likely left the plane. They were Mikhail Kryshtapovich, "senator" and director of the Haradzeya sugar mill, and Mikalai Prudnik, director of the Slutsk sugar mill. Witnesses claim that their names were voiced.
Besides, heads of all four sugar mills of Belarus were not at work on Monday. Apart from the mentioned Prudnik and Kryshtapovich, these are also director of Skidel sugar mill Dzmitry Ehorau and Zhabinka sugar mill Viktar Mironau.
Leanid Zaika, economist and head of the analytical centre Strategy provides Charter97.org with comments.
- What do you think happened to the directors of sugar mills?
- There is a solemn moment here. As a rule, people from special services are taken off the planes if they are classified as spies. Then this operation is successful. It is brilliantly accomplished; all the detainee's contacts are revealed and so on.
As for the directors of the sugar mills, there must have been some damaging information - maybe because they were flying with families in January, which is suspicious.
In principle, sugar, like any foodstuff, is a product that gives a ground to raise money in a country like Belarus.
A new sound case has been initiated in Belarus - "sugar case". There was a "cotton case" in Soviet times. It was right before the collapse of the USSR (although no planes were diverted). We can see how the "sugar case" begins.
It will certainly be seen as a "brilliant" operation of the special services of Belarus. There's a reason why General (Ihar Serheyenka - ed.) heads Lukashenka's Administration. He has all the levers and tools to carry out such "operations".
It would be a common story for Belarus, but it happened before the elections. It may be the beginning of a "fair" election campaign. It aims to show "the beloved people" that Lukashenka is fighting "crooks". No more information is available. Any director raises some money, has his interest, gets kickbacks. But there's nothing wrong or strange about it.
- Belarusian sugar costs twice cheaper in Russia than here... What is going on in the sugar industry of Belarus and what is its specific nature?
- It has always had its peculiarities. 10 years ago I analyzed the sugar industry of Belarus. We used to buy raw sugar at 25 cents mainly in Brazil. We did not buy it in Cuba. By the way, the mentioned plants - Zhabinka, Slutsk - were built only for Cuban sugar.
I took an analysis, published it and told all "deputies", ministers, KGB officers and illusionists that we bought raw sugar at 25 cents.
We sold it to Estonia at 29 cents, to Russia at 49 cents, and inside Belarus at 75 cents.
I wondered why we "loved" Belarus so much? Why did we sell at 29 cents to Estonia and 75 cents to Belarus? They all goggled. Those officials, KGB officers and others did not know it. I used to make calculations on my own.
The scheme has remained. Belarusian sugar costs 75 cents. It's very high prices. It costs much cheaper in Russia. There are schemes. According to them, the money was somehow pumped out.
I think it can't be compared to the Belarusian "oil industry", those who profit from oil and gas. I would say that the schemes with sugar are not so interesting. One can't make much money on them.
But there have always been schemes and Russia finally threw us out of its sugar market. It was the right if you look at it. What kind of "partner" is this if he sells at 29 to Estonians and 49 to Russians! I would be offended too...
Belarusians pay Br1.5 per kilo of sugar and do not ask how much it costs at all. Russian sugar would be cheaper here, a little more than a ruble. I won't assert it now, we should just calculate. However, this price is balanced.
Things that happened are, so to speak, the end of a pampered life. I'd say that it's finita for dolce vita.
One of them must have been the one to blame. What kind of voyage is that? They fly somewhere with their families... The first hint that they may have transferred money from abroad and decided to cut and run.
- In other words, you think that it was not a vacation, as journalists are told, but an attempt to escape, don't you?
- Why not? All smart directors always do that. How do they find themselves abroad? We don't even know all the names. If a list is made up, there'll be outstanding people of the country. It's normal. They transfer a couple of millions on 3-4 accounts and then enjoy life. They can say they need surgery. "For health reasons" sounds good, terminological trick. It's better to leave for health reasons, not to go on vacation. Then people would cry, "poor thing, they had no chance to be healed." The family flight is suspicious.o
- Why do businessmen and heads of enterprises always get involved in such stories in Belarus? What would you, as an economist, suggest to change in the country to avoid diverting planes with directors?
- There is no need for special measures here.
First, these are amendments to the ownership structure. Zhabinka or Slutsk mills are formally considered an open joint-stock company, but in fact, they are state enterprises. Then competition comes.
If sugar is sold for 1.5 roubles, then let's try to import raw materials from Latin America, from Brazil. As soon as competition establishes, there will also be goods at affordable or at least competitive prices.
- You mentioned the "sugar case" as the beginning of Lukashenka's election campaign. How can it help him?
- The so-called "electorate" is completely seized by TV sets: "Oligarchs and thieves in Russia. Illimitable wealth is stolen by oligarchs and crooks, starting with the former president, in Ukraine. Stealing is everywhere. It happens here, but these people are taken off the planes. That is, Lukashenka and the head of his administration will nail everyone"...
One can just jail everyone. Thief or not, then let them sort it out later. The best option is to call them spies. One is a Brazilian spy, another is a German spy or a Cuban one.
That's absurd. Dear comrades, communists, as well as postcommunists. When the "cotton case" was opened, the Soviet Union fell apart a few years later. Comrade Lukashenka, you have initiated the "sugar case", look how the similar case ended in the Soviet Union. That's it.