The Genuine Slavic Triangle Is Poland, Belarus and Ukraine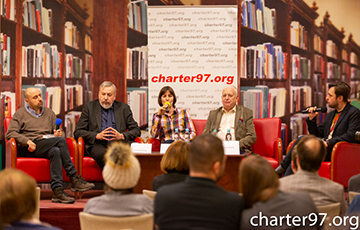 We create opportunities.
January 23, the Public Library of Warsaw and the Charter-97 Foundation held a discussion "Belarus, Poland, Ukraine: 30 years after the victory of Solidarity". Its participants tried to answer the question of why the neighbouring countries were in different situations, 30 years after the transformation began.
Its participants:
Andrei Sannikov is former Deputy Foreign Minister of Belarus, head of the Belarusian delegation to the negotiations on nuclear and conventional disarmament in 1991-1995, former presidential candidate in 2010, a former political prisoner.
Viktor Ross is the Polish ambassador to Moldova (1994-2000) and Armenia (2003-2004), former advisor to the minister and head of the political department at the Polish embassy in Russia, advisor (2000) and deputy director (2001) of the Department of Strategy and Foreign Policy Planning at the Ministry of Foreign Affairs. Lecturer at the University of Warsaw. He used to be one of the heads of the Polish program to help repressed Belarusian students.
Olga Popovich is historian, commentator of Ukrainian politics, Nash Vybir Foundation.
The meeting was moderated by journalist Evgeny Klimakin.
Representatives of the Ministry of Foreign Affairs of Poland, the Ukrainian embassy, lecturers and graduates of Warsaw University, employees of analytical centers, journalists of Polish, Ukrainian and Belarusian media also took part in the debates. Charter97.org presents information on the discussion.
"Poland's accession to NATO and the EU is an unconditional success"
Viktor Ross described a positive example of democratic transformations in Poland and whether the country could have followed a different path:
- It all started in 1980 when a strike at the Gdańsk shipyard began. Then it was followed by 16 months of unforgettable Solidarity Carnival. Everything became accessible and possible. Freedom took to the streets of Poland.
There was a huge enthusiasm of people, especially workers, who were the driving force for these changes as well as intellectuals. Especially the technical intellectuals, who were close to ordinary workers.
What happened? After 16 months, the whole movement was suppressed. The pressure of the Soviet authorities on Warsaw caused the introduction of martial law in the country. Protests continued, but the feeling of change and revolution in Poland was fading away.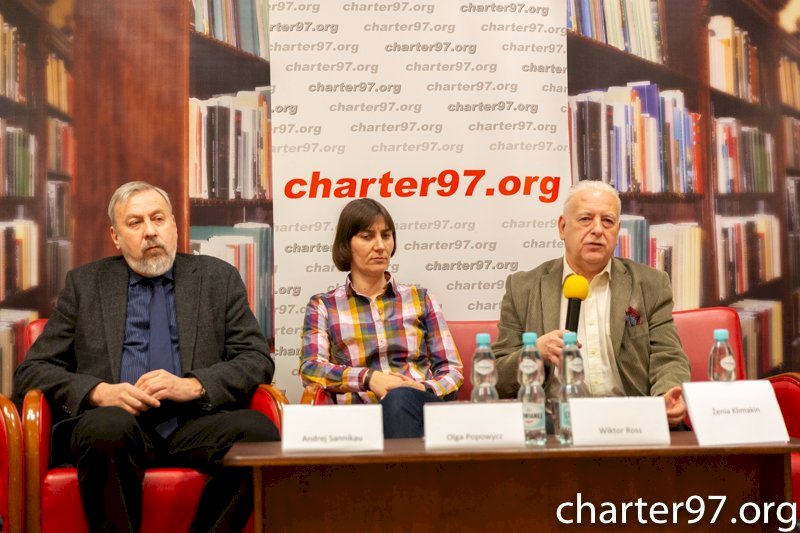 In 1988, a severe economic crisis began. More than one million people emigrated to various European countries and the USA. The authorities did not prevent this. One can leave if one wants. A lot of prominent figures left the country.
As a result of the aggravating social and economic crisis, there is an attempt to start a public dialogue.
An operation to replace political power with an economic one begun in Poland. I consider it an important moment if we want to answer whether our expectations have been met.
In Solidarity, the prevailing view was that Poland should have become a country where local self-government prevailed. Nobody thought about capitalism, but about social justice, stability, limitation of the power of the party nomenclature.
The authorities came up with a rather clever trick to find a good place in the new structure of the country. Then a compromise between the forces of Solidarity and the authorities followed.
Leszek Balcerowicz, the author of economic reforms in the country, became Deputy Prime Minister of Poland. Based on economic decisions that had already been tested in South America, he built economic policy and was the major promoter of new ideas.
At that time, the industry was strongly monopolized by the state. In agriculture, the situation was a bit different and differed from that of Ukraine and Belarus. There were no collective farms in Poland. 75% of our agricultural lands were private. Therefore, small business existed in our country. Then we went through a rapid decline in the purchasing power of the population. Prices increased tenfold in the country, and wages only tripled. However, after three years of reforms, Poland reached the pre-crisis period.
However, public sentiments turned against Solidarity and the former government. The postcommunists returned to power. Since that period, there has been a pendulum in Poland: the Left comes to power, loses popularity, people who initiated changes in the country return to power. It lasted until the turning point when the party "Law and Justice" came to power in the country.
So I would like to say that the expectations of changes have been of rather limited nature in Poland. Of course, Poland's accession to NATO and the EU and its accession to the axis of the Western world is a success. However, I would like to stress that more could have been done.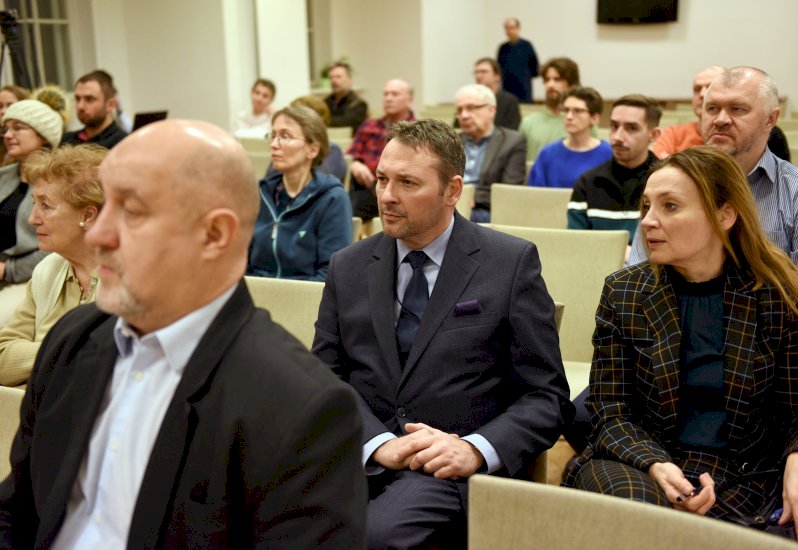 Solidarity changed the image of Poland in the eyes of Ukrainians
Ukrainian historian Olga Popovich believes that the Polish anti-communist movement also had a great impact on Ukraine:
- Solidarity has changed the image of Poland in the eyes of Ukrainians. Poland struggles against the negative image of a Ukrainian, and Ukraine had a negative image of a Pole imposed by the Soviet power. A Pole was shown as a "master". Solidarity proved that a Pole can be a democrat, a good neighbour and can measure up to a Ukrainian, which was very important for us.
In September 1989, the congress of the Ukrainian national movement was held in Kyiv. It was headed by such dissidents as Drach, Chornivyl and Goryn. A delegation from Poland was invited then. Such Polish politicians and public figures as Adam Mikhnik, Bogdan Borusewicz came to Soviet Ukraine. It was the only foreign delegation at the Ukrainian Congress. It is extremely important for Polish-Ukrainian relations. Since that time contacts between the two countries have gone been developing.
Polish Solidarity served as an example for Ukrainians how to fight for democracy. Poland has always stressed that Ukrainian dissidents heroically made it through the communism, and Ukraine's independence has a price.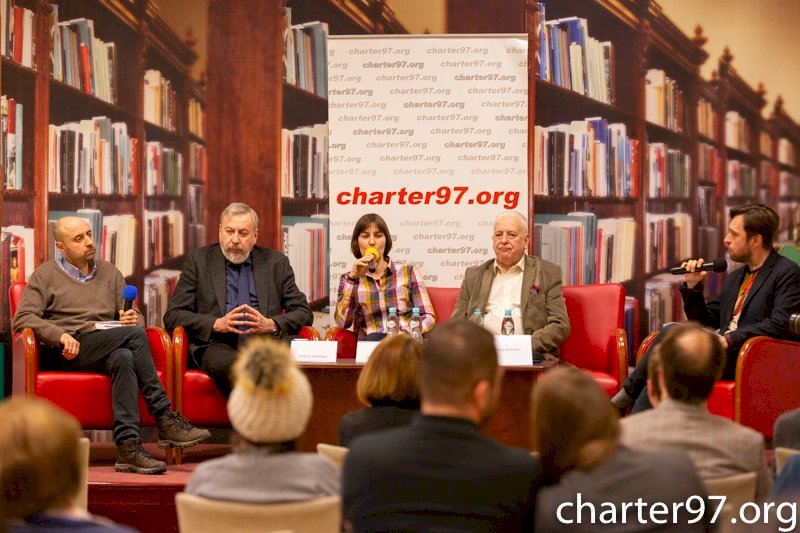 "In 1987, I learned that Solidarity would win"
Andrei Sannikov told how the Polish Solidarity had influenced the situation in Belarus and Belarusians:
- Solidarity still has an impact on the situation in Belarus and is an example for us. The experience of Poland and the circumstances of those events we learned about later are a good example. I think it can be useful in the future.
Speaking about the times of Solidarity, I was studying then at the Moscow Diplomatic Academy. I guess that over the last hundred years it was the best time to stay in Moscow. Perhaps it was the best time in the next hundred years. It was the Perestroika time, we explored our history and many other things.
There was a teacher at the Diplomatic Academy who was knowledgeable about the Polish situation. In 1987, I learned from him that Solidarity would win. No, he was not a supporter of Solidarity, but an ordinary Communist teacher. However, he said a major thing: Solidarity will win because there is no Siberia in Poland. All dissidents and opposition members were imprisoned in Poland.
Today we already know that the possibility of intervention, implementation of the "Brezhnev's doctrine", deployment of troops in Poland was considered. It would mean that Polish dissidents could be exiled to Siberia.
To emphasize that these were really good times, I would say that I saw Andrzej Wajda's film "Man of Marble" in Moscow. It was 1988.
I would like to note that all the events in Poland had a strong impact on us. The visit of Foreign Minister Krzysztof Skubiszewski to Belarus, Ukraine and Russia served as one of such factors. His visit was in October 1990, about two months after the adoption of the declaration on the sovereignty of Belarus and Ukraine.
This gave a great impetus to the development of our independence. The Belarusian SSR was not allowed to have diplomatic relations even with its closest neighbours. Yes, there were consulates of Poland and the German Democratic Republic, but there were no bilateral relations.
There were some omissions in the documents signed by the two sides, but a communiqué was signed. I am very proud to be involved in the preparation of those documents, which were the impetus for our independence. Imagine, the first agreement on friendship and cooperation between independent Poland and Belarus was signed before the Soviet Union collapsed, in October 1990.
Moreover, I was working on this agreement at the Soviet Embassy, because there were no other platforms at that time. However, the agreement was signed between two independent states. It was a real miracle. To see what happened, one needs to know our then Prime Minister Kebich, who today criticizes the Belovezha Accords. I do not know what had to happen for him to sign such an agreement. After all, the USSR still existed, and Moscow did not like such treaties.
I would like to stress once again that that time was especially fruitful for Belarus' cooperation with Poland and Ukraine. That is why I am very grateful to Charter-97 and the Public Library for the opportunity to discuss this period of history in the relations between our countries. Many people say that "stability exists under Lukashenka". I say that it was the time when stability existed, despite all the events.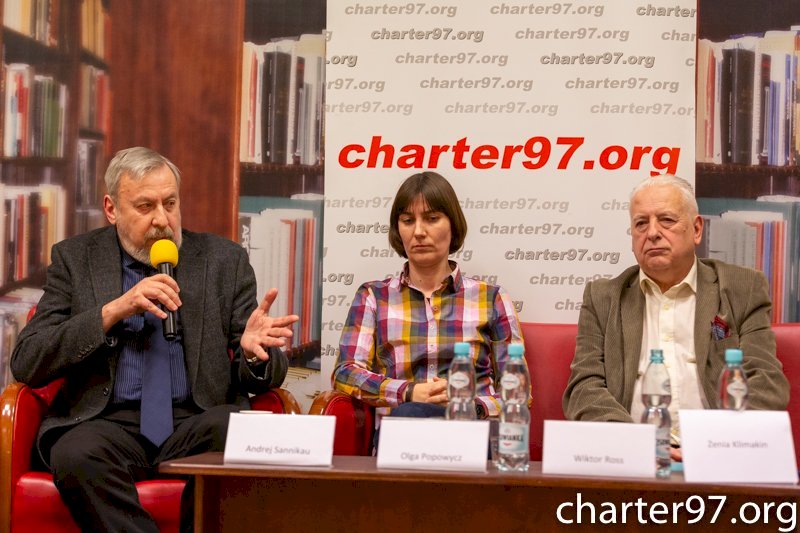 Will Russia let Belarus and Ukraine go to Europe?
Poland gained independence in 1989; Belarus and Ukraine in 1991. There is a little time gap between these two dates, but why are the countries at different stages of development?
Polish diplomat Viktor Ross thinks that this is a historical and philosophical question:
- A major part of Poland was part of the Russian Empire, but still, we have preserved a huge cultural potential since the partition of the Polish-Lithuanian Commonwealth. That is why we managed to survive.
Moreover, Poland had a stage when it managed to regain its independence in 1918. This gave a huge impetus to development. Ukraine and Belarus did not have such an opportunity. The Peace of Riga, the partition of Ukraine and Belarus between Poland and the USSR. Besides, Belarus and Ukraine are closer in cultural terms to Russia, another factor is religion.
Today one can ask many questions. Has Russia always been like this? Is the centralized power, lack of any tolerance and democracy the features of the Russian people? This is not quite true, because Russia has also had different times. But the Tsarist regime was undoubtedly the dominant feature. Then it was turned into the USSR, which caused drastic changes in Ukraine and Belarus in 70 years. A huge cultural potential was lost, intellectuals - poets, writers, who today are called folk - were destroyed. Total Russification, Russian schools, administration - did their job.
Olga Popovich agrees that Russia will hinder the European development of Ukraine and Belarus:
- We see that Russia today does its best to divert Ukraine from moving to the West. Russia occupies Ukrainian territories and does not want to cease the war. Talking about why Ukraine has not yet succeeded and Poland is more successful, one can stress that Poland had individual entrepreneurship. This is the reason why Poles reacted differently to market reforms. This led to the communists to stay in the Ukrainian parliament for a long time. They opposed economic reforms.
The Ukrainian historian also agrees with Professor Sergei Plokhia's thesis that the Russian Empire did not collapse in 1991, but still exists today:
- Russian policy line is only getting tougher and more aggressive. If the West does not respond properly to Russia's violations of international law, unfortunately, Russia will continue doing it. Russia will also seek control over those territories that it considers its own.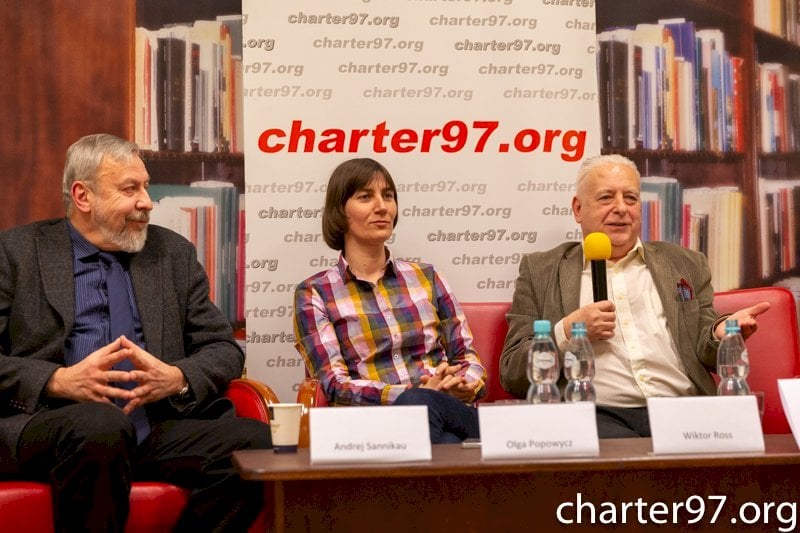 Andrei Sannikov believes that even with a neighbour like Russia, Belarus can choose the Western way of development.
Anything is possible. After all, it has become possible for Lithuania, Poland, Latvia and Estonia with such a neighbour by their side.
It is not so pleasant to hear that we are the last dictatorship in Europe, but it is true and there is no need to hide it. I would like to stress once again that the Lukashenka regime is Europe's last dictatorship. When one says that another dictator has emerged, I can say that Russia is not Europe.
Former Deputy Foreign Minister of Belarus has identified three factors having caused Poland's success. Ukraine is developing dynamically and is on the way to build a democratic state, while Belarus remains the last dictatorship in Europe:
- The first factor is the so-called "Fukuyama factor". In his book, Professor Fukuyama said that "history is over and liberal democracy has won". One can do nothing, and the world will take the path of liberal democracy. No one has helped or tried to help Belarus and Ukraine to build the institutions needed to build a democratic state.
The second factor is the market factor. The West considered us as an opportunity to expand its markets. Since Fukuyama said that everything would be fine, one could go to these countries. It happened. But Western business got into corrupt and illegal schemes, which had been practiced for a long time.
The third factor is the partition of Europe. The Russian factor is only the result of this partition. When the USSR collapsed, Ukraine and Belarus did not find themselves in Europe. Poland, Hungary, Germany, Czechoslovakia, and then the Czech Republic and Slovakia did.
I would like to note that Russia's imperial policy line towards the former Soviet republics has not been invented today, it appeared under relatively democratic power in Russia. At that time it was called the politics of the "near abroad".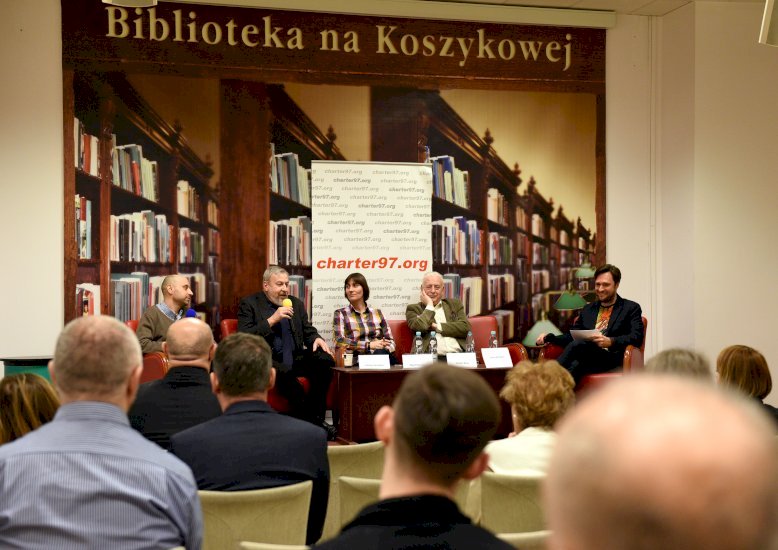 Andrei Sannikov believes that the U.S. and Western European countries drove Belarus and Ukraine into the sphere of influence of Russia, and conducted a direct dialogue with Central European countries:
- When we say that there is a Russian factor, I would like to stress that it did not appear with Putin's coming to power.
There were artificial barriers between Europe and us.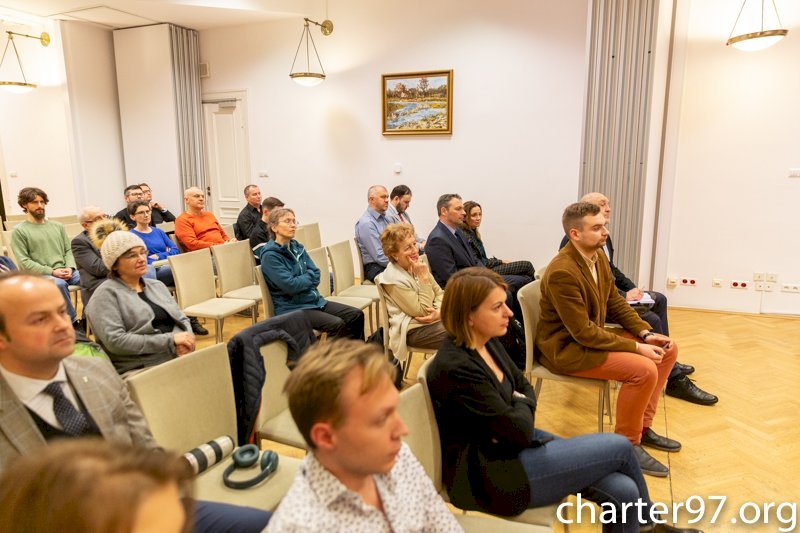 "An example of relations between Belarusians and Ukrainians is Mikhail Zhiznevsky"
Ukraine has repeatedly fought against the dictatorship. But why do people who come to power in this country so easily build relationships with the official Minsk and dictator Lukashenka?
Olga Popovich believes that Belarus, although it is a neighbouring country of Ukraine, is barely explored by Ukrainians:
- When talking to someone from Ukraine, Belarus is associated with such attributes that have nothing to do with it. They say that there are good roads. They play it on repeat but do not fully understand how life in Belarus looks like. This is the matter of the media because Belarus is not represented in Ukraine as it is. After all, apart from good roads, one cannot even protest against the violation of rights. In Ukraine, the image of Belarus has become a stereotype. That is why Ukraine does not consider Lukashenka a dictator. This is a problem. The media in Ukraine should pay more attention to Belarus.
As for the official authorities, Belarus is Ukraine's neighbour and therefore the authorities are trying to take a neutral position. The Ukrainian elites believe if economic relations are conducted, Belarus will remain neutral on the international arena in certain issues. Although, we see that Belarus still votes on the international arena the way Russia does.
After the official part, everyone could ask questions. A journalist of the Polish Eastbook asked about real relations between Ukrainians and Belarusians. He also wondered whether the Ukrainian scenario of power change in Belarus was possible.
Andrei Sannikov believes that Mikhail Zhiznevsky, a Belarusian who sacrificed his life for the freedom of Ukraine on Maidan, serves as an example of relations between Belarusians and Ukrainians:
- I would like to note that our people, patriots have always supported democratic revolutions in Ukraine. There are participants of the first Maidan of 2004 (Dzmitry Bandarenka, Anatol Mihnavets) and the second Maidan in this hall today. There have always been many Belarusians there. Today, Belarusians take the side of Ukraine in its struggle against Russia.
Despite different stages of development, it is true to say that the fates of Ukraine and Belarus are interconnected. We should discuss it within the region. The only guarantee of security both for Belarus and Ukraine, which is now at war with Russia, is the democratic development of Belarus, support for democracy. Such an approach should exist. Nobody will argue that Russia is the least secure factor in the region now. Not only for Belarus and Ukraine but also Poland, the Baltic States and Europe in general. Russia will not ask where to wage war next time.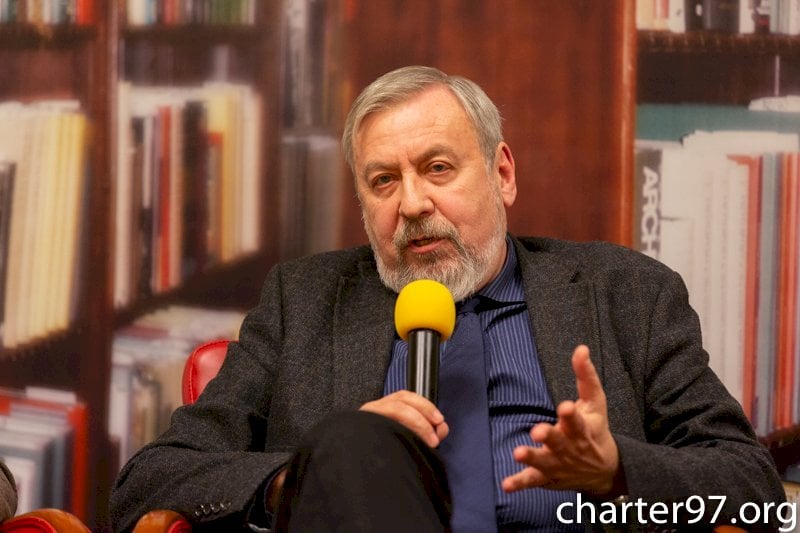 Andrei Sannikov also believes that Belarusians have a real chance to replace Lukashenka's regime:
- We have had a chance to change the government; it exists now and will remain in future. I would like someone to answer my question: where do democratic changes take place without the help of the democratic world? In what country? You will not find such an example. Today we have to prove that we have the right to democratic development by sacrificing our lives, fighting against the occupation dictatorship of Lukashenka. We have to fight for Belarus' independence with Russia and the Kremlin. We fight with Western experts and politicians who support Lukashenka. Then we hear: "Something is wrong with your struggle". We have had no partners in the West all these years of Lukashenka in power. What do we hear today? Lukashenka is a factor of stability because he has been the dictator for 25 years and it is stable.
Poland and Lukashenka: a policy of isolation or dialogue?
Answering the question about Warsaw's policy towards Belarus, Viktor Ross told about different periods in Polish policy towards the official Minsk:
- There were times when, for example, the protests in Belarus ended with powerful repressions, and then the EU decided to isolate Lukashenka. Poland supported this decision, but there is a large Polish diaspora in Belarus, which needs protection. There were scandals with the Union of Poles in Belarus when the Belarusian authorities were taking away Polish houses. Then Warsaw initiated a dialogue.
Viktor Ross believes that Lukashenka has always played a cunning game during such thaw in the relations:
- When he had "gas wars" with Russia, he immediately turned to the EU. When the problem was over, the parody also came to an end. Lukashenka started bowing to the Kremlin.
Among the positive examples in the Polish policy towards Belarus, Viktor Ross notes the work of Belsat TV channel and the website Charter97.org from Warsaw:
- People are in exile, but try to influence and inform Belarusians. After all, there are some pro-Russian "trolls" and bloggers in every district of Belarus.
Andrei Sannikov believes that Poland and the West should have a strategy towards Belarus:
- Fluctuations do not bring any result. If we speak frankly, it's never been about Lukashenka's isolation. Isolation never existed at all. The opposition has never told our neighbours that they should have no relations with Lukashenka and the Belarusian government. But let's check: you give a billion dollars to Lukashenka; a major part of it is spent on his repressive apparatus, and give a billion dollars to Charter-97 and Belsat. Then you'll see the result. Today there is information warfare and this money will be spent on democratization.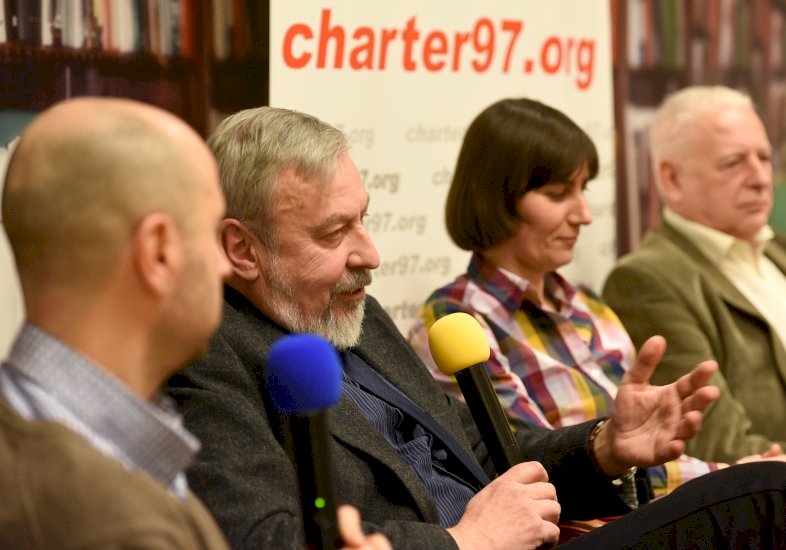 Former Deputy Foreign Minister of Belarus also believes that the European Union has a unique opportunity to change the situation in Belarus:
- Everyone knows that Lukashenka suffers a disastrous financial situation and if one sets the conditions, one should do it now. We shouldn't say that we are so noble; we'll save Lukashenka because he does not get Russian oil. Use the opportunities that the EU has, use the pressure on the dictatorship.
"The media can help Ukrainians understand Belarus"
The representative of the initiative "Belarusian National Memory" Anatol Mikhnavets addressed a question to representatives of Ukraine and Poland. What can they do for Belarus? The public activist also drew attention to the fact that it would be worth creating a "blacklist" of Belarusian officials and law enforcement officers, banned from entering the EU territory.
Olga Popovich believes that the Ukrainian media can help civil society in Ukraine to understand Belarus.
- We need to talk more about it, do more reports on Belarus. There should be more cooperation between Ukraine and the Belarusian opposition. There should be another Belarus in Ukrainian society, without Lukashenka.
Viktor Ross agreed with Anatol Mikhnavets that "black lists" should exist for representatives of the Belarusian authorities.
- European intelligence services should interact somehow. I am convinced that a large number of spies, both Russian and Belarusian, are working in Poland. However, it remains unnoticed for our authorities.
Also, a Polish diplomat is sceptical about the Eastern Partnership as an instrument of European policy towards Belarus.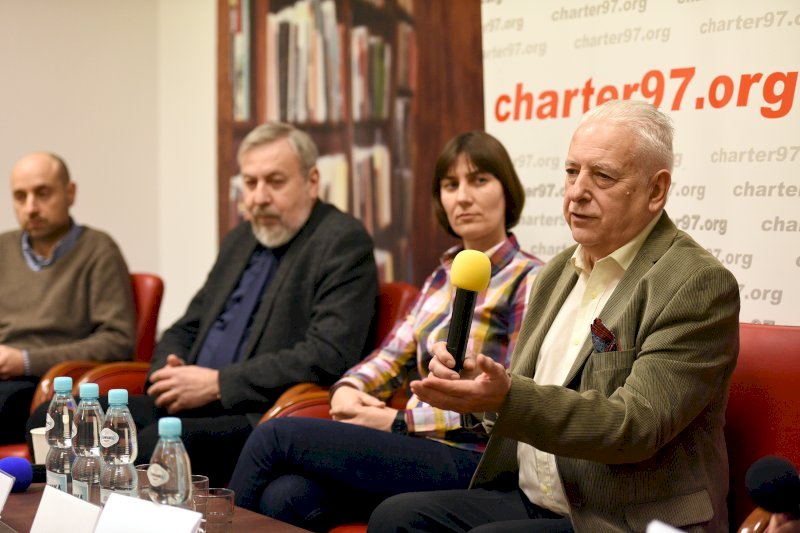 - Some countries do at least something, there are non-governmental organizations that work in the framework of civil society, but Belarus has poor performance in this regard. Probably, because of the activity of special services and Lukashenka himself. He wants to have control over it all.
The Budapest Memorandum instead of the Minsk agreements with bandits
Coordinator of the European Belarus civil campaign Dzmitry Bandarenka wondered why the Budapest Memorandum, which was meant to be a guarantee of territorial integrity for Ukraine, was not working.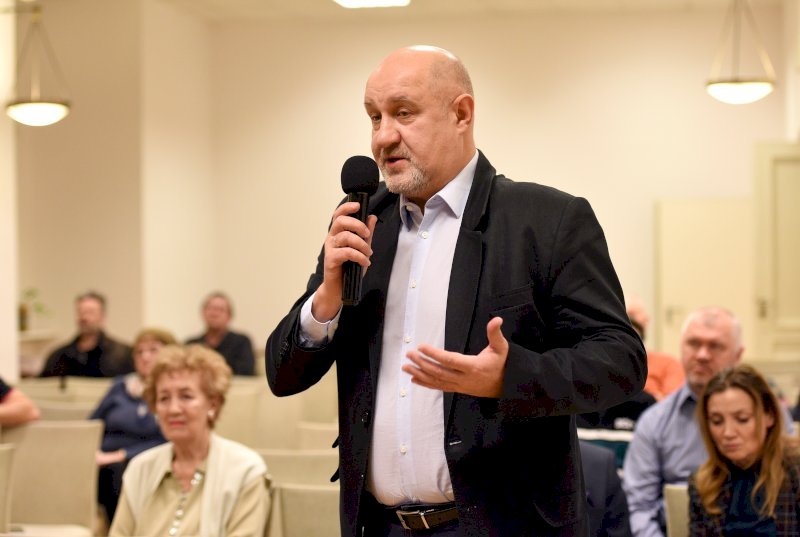 Andrei Sannikov, who headed the Belarusian delegation to the negotiations on nuclear and conventional disarmament in 1991-1995, considers the Budapest Memorandum an example of good cooperation:
- It was a major attempt by Ukraine and Belarus, to a lesser extent Kazakhstan, to provide security guarantees for themselves.
Ukraine was the locomotive when the Budapest Memorandum was being negotiated. I used to work with it, but, frankly speaking, I did not fully believe that the signing would be held. Unfortunately, we already had Lukashenka and he was not interested in those negotiations. On the contrary, he wanted to leave nuclear weapons on our territory.
Andrei Sannikov also wondered why Ukraine did not raise the issue of the Budapest Memorandum in the international arena:
- I do not know why President Poroshenko, and now President Zelensky, ignores it. After all, it is relevant and crucial to attempt to stop Russia. There are some obligations, consultations between the countries that signed the memorandum. It would be a different format, not the Minsk format with bandits.
Viktor Ross believes that the Budapest Memorandum did not work out because "the head of the Kremlin started playing poker".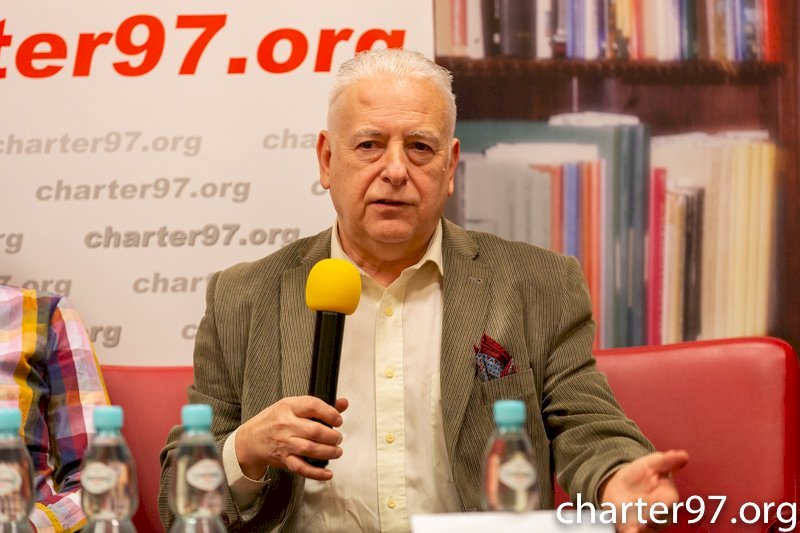 - Putin goes for broke. He is a bandit who believes that Americans and partners of the West face a huge dilemma, whether it is worth "dying for Gdansk". Whether all NATO countries stand out together following the fifth point of the Washington Accords. Putin is constantly raising his stakes as a poker player, while the West is constantly "expressing concern" by issuing the 367th warning.
It seems to me that the Budapest Memorandum determines the ability of the West to support countries that long for democracy.
"The genuine Slavic triangle is Poland, Belarus and Ukraine"
A journalist from the Polish Eastbook asked a provocative question: "Maybe Belarusians do not want to protest because they have a cake baked?"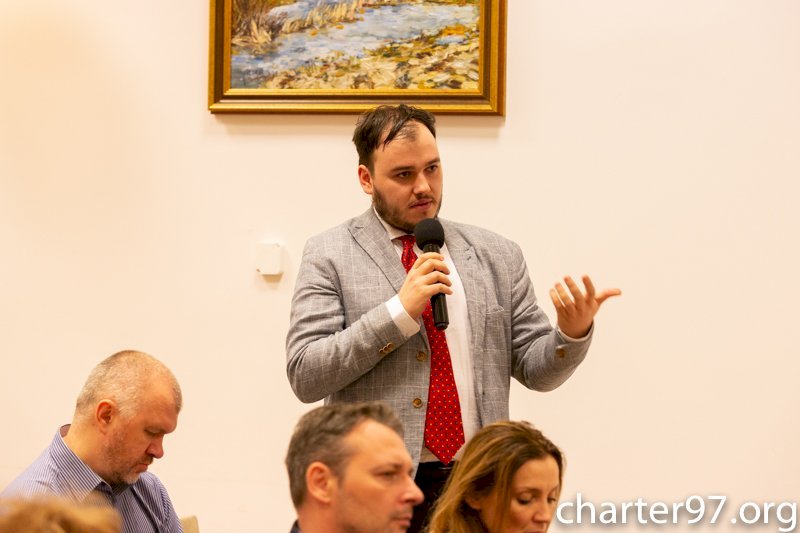 Andrei Sannikov recommended exploring the history of Belarus and its realities:
- We had the severest protests in Soviet times when workers took to the streets in 1990-1991. In 2017, there were the largest protests since Perestroika caused by the so-called law on "parasites".
The events of 1999 happened in Russia or Ukraine. Opposition leaders who would have replaced Lukashenka without a trace were killed. They are former Interior Minister Yury Zakharanka, former head of the Central Election Commission Viktar Hanchar and vice-speaker of the Supreme Soviet Henadz Karpenka. It was impossible to take actions after such a blow, but we did.
Andrei Sannikov believes that if the West supports Belarus, changes will come.
- They say that there is a "Slavic triangle" of Russia, Ukraine and Belarus, but I prefer the one that we have formed during this discussion - Poland, Ukraine and Belarus.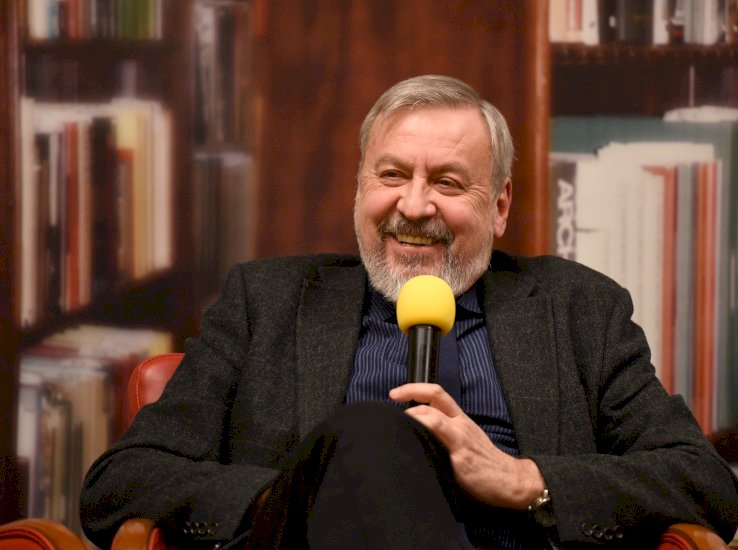 Where would Poland be without the help of the Western democratic world? Would there be an independent Ukraine without the help of the Western world? You know, I do not mean that Belarusians should stay idle. We will act. We create opportunities. When we open a window and see the wall of the Kremlin behind it, I am sorry, but these opportunities shut.
Andrei Sannikov also recommended the journalist not to seek the truth in the official Belarusian statistics:
- Today people earn $150 in the regions, and pensions are $60. It is not enough. Yes, Belarusians are talented people. All these statements are Lukashenka's myths, which have nothing to do with reality.