Authorities Aim To Take Away Children Of European Belarus Activist Palina Sharenda
31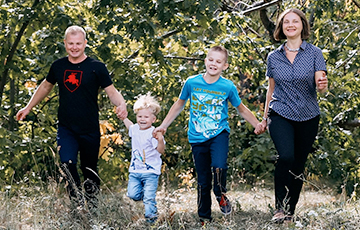 The Brest woman asks caring people to support her.
Palina Sharenda-Panasyuk, the wife of political prisoner, activist of the European Belarus civil campaign Andrei Sharenda, is under pressure from the police, they are threatening to take away her underage children. As the activist told the website Charter97.org, denunciations against her family, signed by Deputy Head of the Leninski district police department Mikalai Samasyuk, came to the education department.
On October 1, at midday, Palina and her minor son were summoned to the commission on minors' affairs at Maskouskaya Street, 273-54, Brest. Lyudmila Kisel, the Headmisstress of secondary school #11, where Palina's eldest son is studying, iwas a member of the election commission and signed a falsified protocol in August 2020.
Andrei Sharenda during this election campaign was preventively detained on July 28, and released on August 22. The second time he was detained during the March of Justice in Brest on September 6, he was sentenced to 15 days of arrest, and on September 21 he was again given 15 days of the same. All this time he is being held in the detention center in Brest.
Palina Sharenda-Panasyuk regards the pressure on her family as revenge from the dictatorship.
"In the autumn of 2019, I was a candidate in the so-called parliamentary campaign, we were the first to put pickets on the streets of Brest under white-red-white flags and the song "Changes! "
I made an appeal to voters, in which I called Lukashenka a dictator, and declared the need for new free elections. The dictator's servants were very frightened by my speech, and they launched a persecution of our family. We were punished with huge fines, property was confiscated and sold, but we survived. And now these rascals, who are not able to crush the adults, have switched to children. I have been a tutor for a long time, I pay taxes. We cannot be broken by such low methods, through the influence on children!" said Palina Sharenda-Panayusk in a comment for the website Charter97.org.
Also, the activist of the European Belarus asks human rights defenders, journalists and all concerned people to come to support her tomorrow at 12 o'clock at Maskouskaya Street, 273-54, Brest.
Information: In 1998, Palina Sharenda-Panasyuk graduated with honors from Brest State University with a degree in history and socio-political discipline. In 2005-2007, she completed her postgraduate education at the University of Warsaw. She graduated with honors from the Political Science course, and was the holder of the L. Kirkland (Fulbright) scholarship.
Palina is also a laureate of the Viktar Ivashkevich National Prize for the Protection of Human Rights in the nomination "For Personal Courage".