Polskie Radio: Students Hold Sit-In Strikes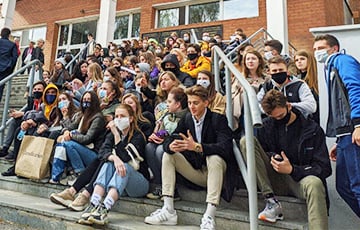 Yesterday a wave of such strikes passed all over the country.
Students from ten universities held a so-called "sit-in protest" in the capital of Belarus, Minsk, on Wednesday. They were sitting on the front stairs to the college buildings, demanding to release the students detained earlier.
As Polskie Radio reports from Minsk, the most crowded protest was in front of the Belarusian State University of Informatics and Radioelectronics, where hundreds of students were sitting on the steps, chanting "let them go".
Earlier local student Siarhei Mazura was sentenced to 23 days of arrest for participating in the rally and "disobeying" the orders of the police.