Ukrainian Foreign Ministry Summoned Lukashenka's Diplomat
8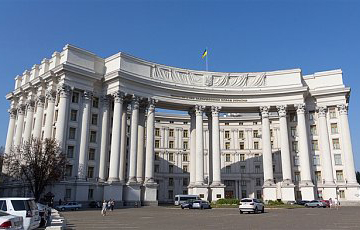 In Kyiv, the participation of a representative of Crimea's occupation administration in a forum in Minsk caused outrage.
Ukrainian Foreign Ministry has summoned a high-ranking Lukashenka's diplomat in connection with the participation of a representative of the occupation administration of Crimea in the Russian-Belarusian regional forum, the ministry said on Thursday.
Kyiv's relationship with Moscow has escalated after Russia annexed the Crimea peninsula in 2014 and began supporting separatists in the Donbas.
"Ukraine considers unacceptable such unfriendly steps of the Belarusian side, which cast doubt on Ukraine's ownership of the occupied Crimea and Sevastopol," the ministry said in a statement.
According to the ministry, Lukashenka's diplomat assured Kyiv that Minsk's official position, which supports Ukraine's territorial integrity, has not changed.